The All Party Parliamentary Small Shops Group (APPG) is calling on the government and the Payment Systems Regulator to urgently implement the recommendations made in last month's Access to Cash review and protect consumers' access to cash.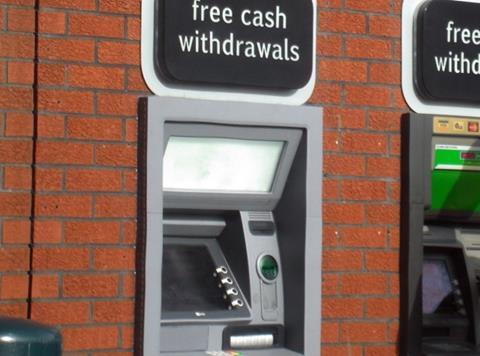 The group of cross-party MPs has written to financial secretary to the Treasury Mel Stride MP, chair of the Treasury Select Committee Nicky Morgan MP and interim mds of the Payment Systems Regulator Louise Buckley and Chris Hemsley.
The letter highlights the importance of ATMs as enablers for spending in high streets, parades and small businesses, and the challenges that living in a cashless society would pose for millions of people.
It also urges them to assess the impact of ongoing cuts to interchange fees on ATMs imposed by LINK and to take forward the following recommendations made in the Access to Cash review which was published in March:
A "guarantee to cash access" for all, including those in remote and rural areas.
Those providing essential services to be required to allow consumers to pay by cash.
A more efficient, effective and resilient wholesale cash infrastructure to ensure that cash remains viable as its use declines.
APPG chair Ruth George MP said: "We are already seeing a worrying decline in free-to-use cash machines.
"Coupled with the mass closure of bank branches, and Post Offices shutting as well, it's much harder for many people to access the cash they need for day-to-day living.
"Cash is still very important for many people, and if you're on a low income then cash makes it much easier to budget. And in many towns and more rural areas car parks, market stalls, charitable events and many small businesses only accept cash.
"Getting by financially is tough, whether you're on a low income, if you're older, or for small businesses. It's important to make sure we don't make life even harder through a lack of access to cash."
LINK's interchange fee cuts for cash machine operators, first imposed in 2018, have so far led to a 6% fall in the volume of ATM transactions and over 250 free-to-use cash machines being either removed or switched to a charged model every month, according to the Association of Convenience Stores (ACS).
Welcoming the APPG's call, ACS chief executive James Lowman said: "Consumers' access to cash is being threatened as banks leave communities and the remaining ATMs in convenience stores become more difficult to keep because of LINK's cuts to interchange fees.
"We fully support the APPG's calls for intervention from the Payment Systems Regulator and the government, as cash is still essential for millions of people in the UK and must be protected."