It's been 18 months since the National Living Wage was introduced, and its effect on the c-store sector has been far-reaching. We look at what the enforced wage has meant to store owners, and the solutions they are finding to offset the increases in their costs
In April 2016 the National Living Wage (NLW) came into force at £7.20 per hour, rising 7.5% from the previous £6.70 per hour minimum wage. It then rose by a further 30p in April this year, and the hikes look to continue annually given the government's intention for the NLW to reach 60% of median national earnings by 2020 – which on current projections is about £8.75 per hour.
Research carried out by the Association of Convenience Stores in May shows that 70% of retailers representing a total of 3,155 stores say that the NLW has increased their wage bill "to a large extent". Indeed, C-Store has spoken to retailers who have seen their wage bill increase by tens of thousands of pounds since it was introduced.
The ACS research shows that 78% of respondents have reduced their staff hours since the latest increase to £7.50 in April and the same proportion say it has made their business less profitable.
Given that the NLW applies only to people aged 25 and over, nearly one in three retailers (30%) say they are actively recruiting younger staff.
And these trends will only go one way if the NLW continues to increase at the expected rate: 88% said they would reduce their staff hours if the NLW rises to £8.75 per hour in 2020, and 49% would actively recruit younger staff.
Furthermore, 73% would increase product costs, compared with 31% who did so as a result of the rise this year.
The C-Store team spoke to a number of leading independent retailers to find out what impact the increasing wage rate has had on them, and the ways they are offsetting the extra costs by amending staffing levels and making changes to other aspects of their businesses.
THE CONTRIBUTORS (IN ORDER OF APPEARANCE)
Nigel Dowdney: owner of two stores in Norfolk
Ramesh Shingadia: owner of two Londis stores in West Sussex
Chaz Chahal: owner of Simply Fresh and Costcutter stores in Worcestershire
Sid Ali: owner of five Nisa stores in Aberdeenshire
Barry Patel: owner of three Nisa stores in Luton and Oxford
Saki Ghafoor: Nisa and Bargain Booze stores in the North East
Simon Biddle: owner of a Simply Fresh store in Redditch, Worcestershire
Paul Cheema: co-owner of two Nisa Malcolm's stores in Coventry
Paul Stone: owner of seven Spar stores in Greater Manchester
Scotmid Co-operative, operator of 200 stores in Scotland the North of England
Arjan Mehr: two Londis stores in Berkshire
STAFFING
Nigel: "The National Living Wage knocked my bottom line, which means we have had to cut people and hours.
"We are looking at areas in store where we can have one member of staff instead of two. It's caused a bit of a storm, but staff have to realise that I have to make changes in order to keep paying their wages. I feel like I'm being pushed into making decisions that I don't want to be making.
"Employing younger people is an option, but we sell alcohol and if you have 17-year-olds selling alcohol then you have to be with them all the time. On a Sunday most of my sales are from alcohol, so that would be an impossible situation. Even if you take on young people it doesn't take long for them to get to 25 and I employ people on a long-term rather than short-term basis.
"I would rather employ more experienced staff for longer rather than employ 18-year- olds and kick them out after two years.
For the first time I have also had to cut my opening hours, from 8am till 9pm to 8.30am to 8pm, which over a year is a big wage saving."
Ramesh: "I'm not going to compromise on a good employee. If they are good and under 21 then they tick all the right boxes, but for the sake of a few pence I would rather have a good employee who is over 21 who operates in the way I want. The priority is to get the best employees and thinking on a wage basis is just one consideration."
Chaz: "We're looking at mixing up the teams into what we call seniors and juniors. We're employing more youngsters [under 18s] to offset the costs – then we're looking at £4 per hour instead of £7.50 per hour.
"There has to be a balance between not employing too many youngsters and having enough older, responsible people on the shop floor."
Save on National Insurance contributions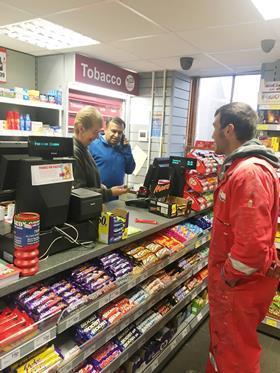 Scottish Nisa retailer Sid Ali says he is dividing hours between more staff in order to save on employer National Insurance contributions. Employers do not contribute NI payments for employees earning less than £158 per week.
Sid says the current situation means it costs him £10 more per week for someone working 31 hours compared with someone working 21 hours.
"It just encourages small businesses to hire people who don't need the work," he says. The government "just hasn't thought about it at all".
Sid: "The National Living Wage has increased my wage bill massively. And while the minimum tax payment threshold has gone up, the threshold for NI payment hasn't. We pay about 13% on average for NI, which brings up the minimum wage to about £9 per hour. With someone on 21 hours at £7.50 per hour it means we'll pay 6p a week in NI. On 31 hours it goes up £10.
Our solution will be to employ more people over fewer hours to reduce our National Insurance payments. So two people on 40 hours combined costs the same as one person doing 36 hours. The government should scrap NI payments up to £10k and then raise contributions at the top end of pay. It just encourages small businesses to hire people who don't need the work.
"Regarding age, we'll continue our policy of employing two adults to one junior. We want to encourage juniors, and it fosters loyalty. We've got one girl who's been with us since she was 16 and she's now in her mid-20s. Now she's doing her PhD and still works for us, and we give her flexibility."
Barry: "My main idea is that customer service has to be number one, so I've trained my staff to take this on board. Social media is very important, too. I'm making my staff do two hours a day on social media and also on customer service to make sure we don't have queues at our tills. We've integrated a lot of our staff into the hot food area – we make 50% on that – so I'm using the manpower we have to cater for that."
Saki: "We've had to cut back on staff hours so we now employ three people in the evening instead of four, and I'll do more work myself. I'm not taking on any more staff, and it's the same for lots of small businesses around here – it's impacting the local economy."
Simon: "I won't make staff adjustments. I've got three or four full-time and six or seven part-time staff, it's quite a steady shift. I won't be looking to hire more young people – they may be cheaper, but they're less reliable. Working mothers, for example, are more reliable and flexible."
Paul C: "We are encouraging the staff members to have a stake in the success of the store. We have a smaller team, but we incentivise them more with bonuses based on quarterly targets.
"We encourage the team to consider the percentage cost base taken up by wages. We asked them: do you want us to drop the hours or work as a smaller team, and they all said that they didn't want to reduce the hours they worked.
"Where we have had staff leaving, we haven't replaced them like for like, but replaced them with students. I think the future is all about youngsters. We've taken people on at the age of 15; they normally stay with you at least until they are 18 and go away to university."
PRICES
Nigel: "I've had to increase prices. Margin is something that is hard to increase because we already operate on a knife edge, but it's something that I have had to do. It doesn't help that we have pressure from Tesco, Sainsbury's, Morrisons, Aldi and Lidl, who are all cutting prices in our area.
"I have tried to raise the price of products that people don't know the value of. One of the most remarkable things is that if you increase the price of a product that is 95p to a pound, and then stick an 'Only £1' label on it, then sales will actually increase. Most of my customers are daily shoppers so I can't increase the price of household products such as bread or eggs, because those are daily items that people need. Those who do their weekly shop in a big supermarket see all the bogof prices and don't realise what the actual trade price is. My prices are much more open to scrutiny.
"I had to increase alcohol prices and people noticed, but I have to be straight with people and pay the rent, the electricity and the National Living Wage."
Ramesh: "We don't increase prices on specific categories, instead we look at the product mix and which ones we can change. At the moment, we are focusing on food to go as it's not only key to our store, but we can negotiate a better price within the category and uplift sales. We do this through lots of meal deals and coffee-to-go offers.
"Most retailers would look at all categories and make sure they are efficient in terms of margin, price and demand. There are options to increase sales and margin and scrutinise costs. Increasing prices is a last resort and just one solution to deal with wages.
"You have to look at the area around your store and see if you can increase the price of, for example, cigarettes or soup by 5p, without ruining the price credibility of the shop."
Barry: "We haven't made adjustments to staff hours or wages, but we've put some of the prices up on items that are non value.
"The introduction of plain packaging on tobacco has helped us because we're making more profit on the cigarettes that we're selling. We've put prices up on tobacco to maintain an 8% margin. With ethnic stuff we try to maintain a 20% margin because there's not much competition around here for it. On non-value items in general we try to maintain a decent margin."
Simon: "We'll have to put prices up in fresh, especially ready meals, sandwiches, meat and milk. Everything's going up anyway. With sandwiches we'll probably increase prices by up to 20%, so a small roll we'll increase from £1 to £1.20. I'm tweaking prices quite often so shoppers don't really notice. I check supermarket prices regularly, too.
"I think the general public understand that prices will go up and that the minimum wage is going up. I think they're expecting it to continue."
Paul C: "We've put some prices up. A lot of items that were £1 are now £1.20."
EFFICIENCIES
Paul S: "There aren't many ways we can automate at retail level, but the main focus on making efficiencies is through self-checkout. We've introduced four self-checkout lanes at our Princess Street store in Manchester, which attracts a lot of students.
"I have reservations about shrinkage and the impact on shoplifting – we're not operating them at night – so I'll wait and see before rolling them out to other stores. Self-checkouts are not cheap – ours are cashless and don't have weighing scales. But ultimately they are a way of reducing the wage bill if it goes well, and it frees up people to spend more time on the shop floor.
"In the first week, 40% of transactions went through the self-checkouts – students like the technology. We've also introduced electronic shelf-edge labels, which saves time on putting labels out."
Working smarter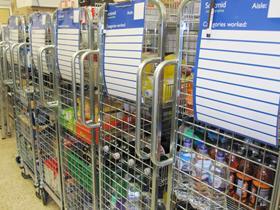 Scotmid Co-operative has been looking at ways to maximise operational efficiency to offset the impact of the NLW.
One idea to aid efficient replenishment is to introduce stock trollies to store rooms. Each trolley is allocated to a store department such as confectionery or soft drinks, and when deliveries arrive staff load stock straight onto the designated trolley rather than merely finding a place in the store room. When it is time to replenish shelves, team members just wheel out the trolley directly to the appropriate department of the store, reducing the time spent and the staff resources required.
Sid: "We're not adjusting pricing, but we're getting more streamlined deliveries to reduce wastage. We're investing in technology, too – we've brought in cutting-edge cash-handling technology which records how much cash is in the till, and it's saved us £30 a week. We'll also introduce self-scanning tills to save on staff hours, but it's a balance – you don't want to reduce in-store friendliness."
Nigel: "We use as much technology as possible to save costs and staff time. Our ordering is automatic and based on stock levels, so we can't do much more than we are doing. Over the years, retailers have been told to modernise and keep up with the big boys as Tesco and Sainsbury's move more into the convenience sector, but now we are in the situation where no amount of technology will help us deal with the Living Wage costs.
"We also looked at self-checkouts as an option, but I don't think they work. Most stores that have them have two tills open anyway, and you always have to have one member of staff helping customers and showing them how to use them."
THE FUTURE
Nigel: "My fear is that over the next couple of years, independent retailers will start disappearing. I can't believe that the NLW was introduced with no consultation or discussion, which could lead to a pay disaster."
Chaz: "The increase in the National Living Wage every year has had a serious impact on business at our three stores, where we employ a mixture of full- and part-time staff, totalling 38 members. Although it's the Holy Grail to be a mean, lean machine, a fixed cost is a fixed cost and the NLW is only going one way, so for us the future is having a mixture of juniors and seniors so we can accurately forecast what our budget's going to be going forwards."
Saki: "It's getting to the point where the NLW is making a massive impact. We're making less and less each year as a result of wage costs and pension costs. We've been taking measures to mitigate the impact of wage costs for years, but there's only so much you can do, such as investing in technology.
"The multiples' price war mean we can't get away with raising prices. Food to go gives us more margins, and we have a Subway franchise in one store – but there's only so much you can do with food to go and it requires more staff anyway. The supermarkets are investing more in food to go, too. I'm afraid I don't really see a future for independents in the next three to five years. But once you're in it, you've got to get on with it until a good offer comes along."
Arjan: "I don't think we can expect any help from the government so we will have to start looking at profitability through food to go and chilled, and changing our business model. We can't simply wait for the government to sort our problems out. We need to improve margins. We can't just increase turnover out of thin air.
"Cash margin has to come from somewhere, which is surely food to go – that's where the market's going and that's where demand in the future is going."
What the NLW rise in April has meant to store owners
The National Living Wage increased on 1 April 2017, requiring all workers aged 25+ to be paid at least £7.50 an hour. Retailers representing 3,155 stores and employing 35,966 members of staff are responding in the following ways:
78%
Reduce the hours they employ their staff
65%
Increase the hours they work
56%
Alter their business expansion or investment plans
55%
Alter pay structures within their business
48%
Reduce the number of staff they employ
36%
Reduce staff benefits (overtime, discounts, training)
31%
Increase product costs
30%
Actively recruit younger staff
14%
Reduce store opening hours
78%
Say the NLW makes their business less profitable
Source: ACS research May 2017