Living in food poverty is a harsh reality for a growing number of people in the UK. C-Store talks to c-store retailers trying to help those in need, and looks at what more can be done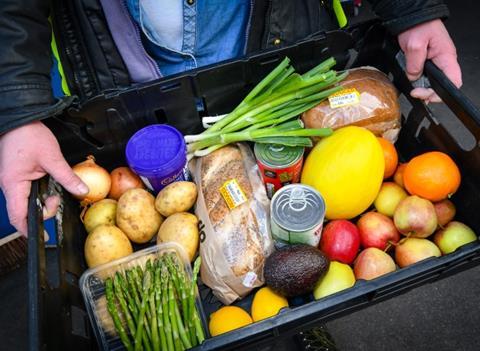 January is a time of year that for many of us means hitting the gym after overindulging in far too much good food and drink over the festive period. For many thousands of others, however, it's a different story: there was no Christmas blowout and January and the cold winter months that follow are a time of extreme hardship; when in the choice between heating the home or fuelling the body, the belly doesn't always win, and for many people, going to bed hungry is more often than not the norm.

The issue of food poverty is a complex and multi-faceted one. And the sad truth is that it seems to be getting worse. The UN's Food and Agriculture Organisation estimates that 8.4 million people are currently living in food insecure households in the UK, while foodbank usage here is at a record high.

Equally shocking is the stat from anti-poverty charity Turn2us, which last month revealed that 6% of UK households living on or below the average national household income of £35,000 don't even own a cooker.

According to new data from the Trussell Trust's network of 428 foodbanks, there was a 13% rise in the number of emergency supplies issued to people in crisis between April and September 2018, compared with the same period in 2017.

And the Trust says that with benefit levels not adequately covering the cost of essential items, the five-week minimum wait for a first Universal Credit payment, plus the impact of colder weather on heating bills, it expects usage to rise further in the coming months.

While tackling food poverty and its associated health inequalities is not a key requirement for the retail industry (the government must step up to the plate on this one), there are many in the industry who are striving to do their bit to help where possible. And as the beating heart of many communities, much of this help is coming from the convenience sector.

Reducing the price of food that is nearing the end of its life is a common way in which stores can and are helping to make products more affordable to hard-up shoppers, and reduce the amount of perfectly edible food that is wasted in the UK each year.

Foodbank donations are another. The run-up to Christmas 2018 saw the Central England Co-operative work closely with dozens of foodbank providers to collect about 70,000 donations as part of a five-week campaign.

In addition to having permanent foodbank collection points in hundreds of its stores, last year it also invested £50,000 to create a specialist hub with charity FareShare East Midlands as part of a project to redistribute unsold food to people in need via hundreds of charities. The long-term goal is to see all best-before goods that have not been sold redistributed and put to use by good causes.

For smaller independent retailers, apps such as Olio can also help facilitate the process of redistributing surplus food to people who need it most, and reduce the volume that is needlessly wasted.

The free mobile app acts as an online marketplace, allowing businesses to take and post pictures of any unwanted foods they have available. Local people then receive customised alerts of what is on offer and can collect the products they want.

Launched in January 2016, Olio now has more than 500,000 registered users and is growing at a rate of 15,000 per month.

And not all retailers donate only food that's nearing its use-by date. Convenience Store has spoken to a store owner, who wishes to remain nameless, who donated 50 frozen turkeys to her local foodbank in a bid to help deprived families cook a proper Christmas lunch.

Other retailers, such as Eldred Drive Stores (Premier) in Orpington, Kent, have designed their own loyalty card schemes which add up to meaningful savings for cash-conscious shoppers. Manager Anita Nye explains: "We have a very popular loyalty card where people get a stamp every time they spend £10 on groceries.

"We chose to keep the amount that triggers a stamp relatively low, and shoppers just need to collect 10 stamps to get £5 off their shopping.

"It's unbelievably popular and lots of people save up their full cards till Christmas so that they can get some really good money off their festive shopping.

"We actually keep a lot of people's cards behind the counter for them as quite a few, particularly the elderly, worry that they might forget or lose them and then miss out on savings."

Giving credit

Along with the loyalty card the Premier store offers another, more surprising, way to help out families on low incomes: "We offer a tab system for people who are really hard up," reveals Anita.

"It's not something that we advertise as a service, but we offer it to those people who we know are in need. We don't let anyone buy alcohol or tobacco on credit, it's just for groceries and essential items; food to feed their kids.

"Many times we've thought about setting a limit on the amount that we allow people to rack up on their tabs, but in the end we've always decided against it. For many of our shoppers, buying on tab is a genuine lifeline until their pay packets come in."

Surely this means the store could lose out when shoppers fail to pay up? "You do, of course, get let down sometimes; people rack up large tabs and then move away and we never get the money back," Anita says, "but it's a risk and a hit we are willing to take as true community retailers.

"We've also had a few occasions where customers who have money owing on their tabs have simply stopped coming into the shop because they can't pay it back and they feel awkward. This upsets me because I would never want them to feel that way. If they are people in genuine need I'd always rather try to help them and find a solution."

Anita and the team also offer a 'Snack Smart' loyalty card to school children. Every time a child buys a healthy snack for under 100 calories (not a sweet or a chocolate) they get a stamp on the card, and for every 10 stamps they get a free healthy snack.

In addition to saving families cash, the scheme is also doing its bit to tackle another unfortunate symptom of food poverty: childhood obesity.

Childhood obesity rates are more than twice as high in the UK's most deprived areas as they are in their wealthiest counterparts - and this gap is widening.

The reason is that many of the most affordable foods for people shopping on tight budgets tend to be the most unhealthy on the shelf, while nutritious or fresh products are often financially out of reach.

In fact, recent Food Foundation analysis found that families on the lowest incomes (those earning less than £10,000 a year) would have to spend 60% of their after-housing income on food in order to eat a healthy diet as recommended by the government.

Store schemes, such as that being run by Eldred Drive stores, which enable shoppers to gain access to healthier snack and meal options, can go a long way towards alleviating the pain.

The government's Healthy Start vouchers can be a useful tool, too, although as retailers who accept them attest, improvements do need to be made to boost take-up.

At present, under the means-tested initiative pregnant women or those who have a child under four years old may be eligible for Healthy Start vouchers to help buy cow's milk, plain fresh or frozen fruit and veg (fruit and vegetables with no added ingredients) and infant formula milk.

Linda Williams, owner of Broadway Convenience Stores in Edinburgh, takes part in the scheme. She explains: "We have been participating in the scheme for many years now and its success fluctuates as people ebb and flow from the area.

"Sometimes a large group of new families will get re-housed by the council nearby and then the uptake increases again.

"It's definitely highly useful to the families that need it, but like many of these schemes it needs to be revamped.

"Paper vouchers often get lost or damaged and as retailers we have to collect them all up and send them off, along with a completed claim form, in order to recoup the money, and this is not always convenient and can be time consuming.

"It would probably be more practical and efficient if it was made into an electronic card-based scheme.

"I think a change like this might boost usage by people who are eligible. It also needs to be better publicised by the authorities because lots of families are unaware that they are eligible unless we tell them," she adds.

And Linda's not alone in recommending changes are made to the scheme.

"One of the biggest problems with the current voucher scheme is that shoppers with a voucher have to spend the full amount in one go as it is a paper voucher," a spokeswoman for the Food Foundation tells Convenience Store. "For example, if you buy milk for 90p with a voucher, you would lose the remaining value of the paper voucher."

Until changes are made, there are things that retailers who accept the vouchers can do to help further, she adds.

"One practical step that retailers could take is to offer special promotions such as bagging a number of vegetables, fruit and milk together, to the value of a Healthy Start food voucher," she suggests.

For eligible pregnant women one voucher equates to £3.10 a week, babies under one get two vouchers worth £6.20 a week, while children aged between one and four also get £3.10 a week.

For people struggling with food poverty in rural areas, the problem can often be even more acute, with far fewer stores in rural areas accepting the Healthy Start vouchers than in urban areas.

Offering a greater variety of cheaper, but no less nutritious, frozen or tinned fruit or vegetables could also go a long way towards improving the health of hard-up shoppers, the Food Foundation adds.

With the help of husband Dennis, Linda organises regular healthy breakfast events to help ensure a nutritious start to the day for local school children, many of whom come from families struggling to make ends meet.

In an age where the UN estimates suggest that about 500,000 UK children go to school hungry each day, this kind of support makes a big difference.

It takes effort, but Linda believes it's worth it. "Organising the healthy breakfasts in partnership with our suppliers does take a lot of extra time, but as community retailers we feel that it's our duty to help the more vulnerable members of our society," Linda says.

"Of course, there's only so much that the retail industry can and should do, but what we can do, we must."
Innovation
Surplus stock put to good use at Community Shop
Community Shop is the UK's first social supermarket chain, providing heavily discounted, surplus food to the people who need it most, but can afford it least.
There are now six Community Shop stores trading in some of the lowest-income communities across the UK, designed to offer those living on the cusp of food poverty access to good food.
Membership to the store is open to those who receive some form of welfare support and live locally.
The stores are stocked via the Company Shop scheme which works with the major retailers, manufacturers and brands to redistribute their surplus foods - equating to more than 70 million items each year.
The surplus stock, which is still perfect edible, is sold for a third of its normal retail price, easing family budgets.
Surplus stock is accepted across chilled, ambient and frozen categories, with a significant quantity of it yet to be packaged or requiring repackaging because of labelling errors.
As a result, a growing number of Company Shop products are sold in plain packaging with a simple black and white label showing nutritional, ingredient and allergen information, together with the best-before and/or use-by date.
Peas Please
Peas Please, the campaign created by the Food Foundation and supported by the Association of Convenience Stores, has these tips for retailers to help boost vegetable consumption by those on low incomes:
Improve the number and appeal of vegetable promotions
Increase the presence of vegetables in lunchtime meal deals and ensure there are at least three snack options which include a portion of vegetables
Introduce 'link save' promotions for vegetable lines with ambient cooking sauces
Make it easier for people with Healthy Start vouchers to spend these on fruit and vegetables.