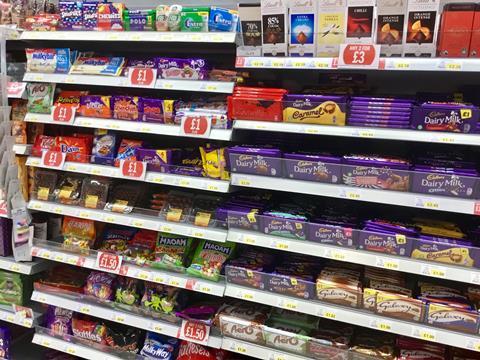 The government is to delay the implementation of restrictions on volume promotions until October 2023.
Part of the upcoming High Fat Salt and Sugar (HFSS) legislation, the restrictions prohibit the sale of volume promotions, such as 50% extra free or BOGOF, in categories that will be impacted by regulations.
The location restrictions, which concern the placement of HFSS items, will come into effect as planned in October 2022.
According to the government, the delay to restrictions on multibuy deals will allow it to "review and monitor the impact of the restrictions on the cost of living in light of an unprecedented global economic situation".
Public Health Minister Maggie Throup said: "We're committed to doing everything we can to help people live healthier lives. Pausing restrictions on deals like buy one get one free will allow us to understand its impact on consumers in light of an unprecedented global economic situation."
Earlier this week, ConvenienceStore.co.uk had reported that the promotional restrictions could be scrapped following speculation by MPs however they have been delayed by a year instead.
Responding to the announcement, the Association of Convenience Stores (ACS) warned that the ongoing chaos over the introduction of HFSS regulations will serve only to impose more costs for consumers and cause confusion for local shops.
ACS chief executive James Lowman said it is "astonishing" that this legislation will still happen when the rising cost of living is impacting consumers.
"The Government's insistence on pushing ahead with costly and confusing regulations at a time when consumers and retailers are facing significant financial pressure is nothing short of astonishing," he said. "While everyone else is trying to navigate the worst cost of living and cost of business crisis in memory, the government is regulating to send officials round to shops with tape measures to make sure yoghurt and pizza aren't displayed too close to the door or on the end of an aisle."
According to ACS research, convenience store retailers have estimated the cost of complying with these proposals, also due to come into force at the start of October, at around £13,000 per store, with supermarkets facing much higher implementation costs.
"Going ahead with the location restrictions in October this year, costing thousands of pounds per store will have a huge impact on thousands of small businesses that are already struggling to make ends meet," added Lowman. "Retailers cannot absorb these costs, they will ultimately have to pass them onto their customers during the same month that everyone's energy costs are set to skyrocket. We once again urge the Government to rethink these regulations, and to properly consider the implications for retailers and consumers."
The Food and Drink Federation's chief scientific officer Kate Halliwell welcomed the delay. "We welcome the UK Government's pragmatism during the cost of living crisis," she said. "At a time when both families and our manufacturers are struggling with high inflation, it makes sense to delay the restrictions on volume promotions for everyday food and drink products, including breakfast cereals, ready meals and yoghurts, as it risked further stretching already pressed household budgets."