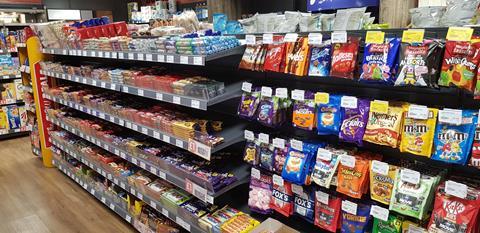 The government has provided more clarity on the High Fat Salt & Sugar (HFSS) legislation that will be hitting retailers later this year although questions remain over symbol group inclusion.
The legislation, now confirmed to come into effect on 1 October, concerns the placement and promotion of HFSS products in stores. Stores with more than 50 members of staff and more than 2,000sq ft of retail floor space are affected by the legislation, however there has been confusion amongst retailers about whether being part of a symbol group meant the legislation applied to them. No further updates were provided on this matter, with the Association of Convenience Stores (ACS) advising retailers to consult with their symbol group about whether legal advice has been issued on the status of their inclusion within the regulations.
In its detailed guidance, the government has updated the following points of the legislation:
Products that include volume promotions on their packaging that cannot be removed will be subject to a sell through period of 12 months to October 2023.
The number of employees that a business has in its entirety, not just the number of employees in England, should be used to decide whether the business is in scope of the regulations. Businesses that have fewer than 50 employees are exempt (subject to symbol/franchise definitions).
There is more information about what constitutes a 'relevant special offer' such as a meal deal, or dine in for 2 promotion, although the guidance states that each individual case will be assessed by enforcement officers.
Vending machines that are operated by a separate business are not subject to location restrictions, although DHSC encourages retailers not to put vending machines selling HFSS products in otherwise restricted areas of their stores.
Commenting on the guidance published by the government, ACS chief executive James Lowman said: "While there has been speculation that Government may not be introducing these rules on 1 October, the publication of this guidance should focus retailers' minds on being ready for the implementation of these rules by this date. We encourage retailers to start making preparations now for how they're going to adapt their businesses to stay on the right side of the law from October, to consult with their symbol groups where applicable and to engage with their suppliers as much as possible.
"The guidance provides a lot of answers for the overall introduction of the rules, but there is still a lot of interpretation that will be left up to enforcement officers when the regulations come into force. This kind of potential confusion is exactly why Assured Advice was set up, to provide one interpretation of the rules that has to be respected across England and Wales. We urge retailers to ensure that they're part of a primary authority scheme such as ACS' Assured Advice scheme to avoid unnecessary disputes with enforcement officers in the year ahead."
The ACS' Assured Advice can be found here.
ConvenienceStore.co.uk will also be running a Countdown to HFSS awareness week starting 11 April covering what retailers need to know ahead of the legislation's implementation.