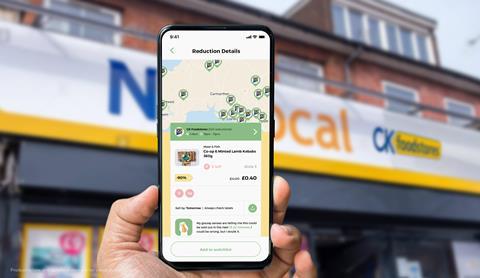 Food waste app Gander is to roll out in 23 CK Foodstores in South Wales.
Gander displays reduced to clear food and in real-time, by linking with POS technology used in stores, automatically pushing the reduced food products to the mobile app, as they are stickered in-store. When that item is sold it is automatically removed from the app, providing an instant feed of all reductions in-store at any time making it simple and effective for the shopper.
The Gander app can be downloaded via the Apple or Android app stores and can be used to locate reduced items in CK Foodstores. In addition to the South Wales, Central England, Channel Islands and Northern Ireland, Gander is rolling out further across the UK and ROI to help drastically reduce waste at a National level.
Heulwen Brown of CK Foodstores said: "We believe it will benefit our customers through easier access to reduced price food products while also helping to tackle environmental problems associated with avoidable food waste. We know that many of our customers feel strongly about this issue and by introducing the Gander app we will encourage shoppers to purchase in a smarter, more sustainable way while also making savings."
Co-founder of Gander Ashley Osborne outlined the extent of the food waste issue. "Environmentally, food waste is a crisis and is one of today's growing issues and it is forecast to increase substantially by 2030 unless serious action is taken. A significant proportion of this waste is completely avoidable. For retailers reduced food can be exceedingly expensive and at a time when margins are being squeezed, this is revenue sitting on their shelves and that shoppers locally would love to buy, they just don't know it is there."
She added: "Generally only 5% of a retailer's existing shoppers are shopping for reduced to clear food. Gander changes this by putting this same information in the hands of significantly more motivated shoppers which in turn will increase sales of reduced product."