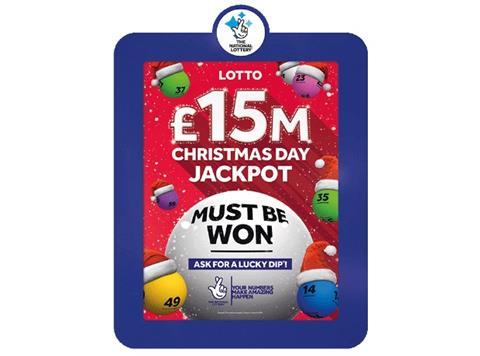 The National Lottery operator Camelot has announced two special event draws and in-store seasonal activity.
It will run a £15m Lotto 'Must Be Won' draw on Christmas Day, providing retailers with the opportunity to boost Lotto sales by as much as 95% ahead of the draw.
Less than a week later on 31 December, a special EuroMillions UK Millionaire Maker draw will make a guaranteed 10 UK millionaires in one night, providing retailers with an expected sales uplift of up to 84% for the draw.
Lotto 'Must Be Won' POS will be landing in stores this week, while POS for the EuroMillions New Year's Eve draw will begin landing on 29 December.
There's also a range of Christmas-themed National Lottery Scratchcards, including £20,000 A Month For A Year Christmas, Christmas Advent Calendar, Christmas Lines and It Pud Be You. This year Camelot is also a Level 1 supporter of the National Council on Problem Gambling's (NCPG) 2021 Gift Responsibly Campaign.
Rounding off this year's events is a special EuroMillions New Year's Eve bonus event – where retailers can earn a £10 bonus for uploading an image of the special UK Millionaire Maker event draw POS to the National Lottery Retailer Hub – and a 12-day Christmas countdown, whereby retailers will receive a Christmas-themed email from Camelot each day in the run up to Christmas with some festive reminders to help maximise National Lottery sales.
To date, over £1.2 billion in National Lottery funding has been distributed across the UK to help tackle the impact of coronavirus.
Camelot's retail director, Jenny Blogg, said: "With two fantastic special event draws lined up and a host of other festive activity in retail, we're expecting National Lottery retailers to be able to enjoy a bumper sales period this Christmas.
"As always, there's a few things that retailers can do to help maximise the sales opportunities around this time of year, including making sure all POS is sited, suggesting a Scratchcard game to customers which they can gift to friends or family, and reminding customers to buy a ticket at the till. All this will go towards helping National Lottery players continue raising over £30 million every week for Good Causes.
"All that's left to say is have a fantastic Christmas and New Year – we're looking forward to all the incredible things to come next year!"