There's not a high street in the country that isn't without a coffee shop or café, and the choice of food and drink served in them can be as long as your arm. But as consumer 
demand for a skinny latte or bacon buttie has grown, so too has a c-store's opportunity to get in on the act. Opening an in-store café - or even seating area with quality coffee - can 
provide a welcome point of difference and footfall booster
Café culture and demand for quality coffee are trends which a growing number of c-store retailers are capitalising on. After all, every retailer needs a point of difference nowadays, and if you have the space and the right location, it is an investment seriously worth considering.

Before Suresh Neeserajah refitted his East Sussex Pevensey Bay Premier store in June this year, few shoppers picked up a basket. But expanding the premises and installing a walk-through café has transformed the shopper dynamic.

"Now most people pick up a basket, probably because they know they can sit down in the café afterwards and make more of an occasion of their shopping trip," he says.

Since completing the £50,000 refit and extension, weekly store sales have doubled to about £15,000 and average basket spend to £6.50. "It's worked well," he says. "People come in for their shopping, have a coffee beforehand, and after their shopping have a meal."

The café is light and spacious, and serves everything from big breakfasts with all the extras to traditional roasts, regular meals such as gammon, chips and peas, or baked potatoes with fillings, as well as baguettes and toasties.

He says the Sunday roasts are particularly popular, and provide a welcome footfall boost and diversion from the 24-hour Asda located two miles away on the outskirts of Eastbourne. Indeed, Suresh realised the café would create an extra attraction for the mainly elderly locals, who provide most of the year-round trade, save for summer when an army of holidaymakers descend on the resort to enjoy the nearby caravan parks and sales soar by about £5,000.

Edward White has had similarly good results by operating a 30-seat café adjacent to his 3,000sq ft Spar store in Calver, Derbyshire. He opened the business in August, so he can't quantify the exact impact the café has had on the store, but he is certain of the role it plays in propping up the healthy £15 average basket spend.

"Most people who go to the café also do a shop while they're here," he says. "The café is a point of difference. Customers can come and meet people, have a coffee and a cake, and then do a shop." Customers also benefit from free wi-fi and a newly-installed coffee machine, which has had a noticeable impact on business. As for the menu, it doesn't require Heston Blumenthal levels of creativity. "Fry-ups are the top sellers in the morning, followed by jacket potatoes at lunch," he says.

Edward advises retailers to consider the competition around them before opening a café. "It's all down to location, but cafés are a way forward for shops now," he says. "You can look at introducing a big brand such as Subway, but we're too rural here for that."

For Tess Flower, opening a café saved her East Sussex store in the village of Upper Dicker. "We added the café in 2008 when the post office closed, and now it contributes to about 70% of the store's total turnover," she says. At first she just had a few chairs "because people wanted a friendly store where they can come and have a chat," before transforming the space into a fully-fledged café of 11 tables, equipped with cakes, hot food and a deli offering. Her top sellers are fry-ups at breakfast and panini and ciabattas at lunch - and quality coffee provides a constant stream of revenue.

Sue Rendell, of Aldbourne Post Office, Café and Deli, knew she wanted to open a café behind the existing shop, but needed evidence that her Wiltshire village was the right place for it. So she went about finding out. "We polled about 130 people in and around the shop and our conservative estimates were that at least 30% would use it, which was do-able," she says.

With the help of a £50,000 Sustainable Development Fund (SDF) grant, Sue and her husband Mark opened the café nearly two years ago. It has since become a regular meeting place for locals, who can enjoy a flexible menu centred on paninis, baguettes, soup and excellent coffee.

Soup is a favourite during the winter months. "Whether it is homemade or a good quality soup brought in, both go well," she explains. However, the menu requires one vital component. "Good quality coffee is the most important thing," Sue advises. "Some of my customers have said ours is the best this side of the Watford Gap! You can't argue with that." Overall, the café has boosted footfall in the shop by 40%, she adds.

The experience hasn't been without its problems, though. "The biggest challenge running the cafe is not having a clue as to what is required or expected. I focused on quality over everything else, and based it upon my own experiences elsewhere that I would never wish to endure again," Sue says.

But Sue has no regrets and advises other rural retailers to follow suit if they're prepared to put in the extra work. "It is a great extra space user and can have a very positive impact on the business, but don't do it if you don't want the extra work it will bring," she warns. "But if it will enhance your shop over any other village commodity and increase your footfall, then it is good for longevity."

Furthermore, the cafe has enabled Sue to expand her reach into the catering field. She now provides school lunches for the local primary school and prepares food for events such as christenings and funerals.

Elsewhere, Tess advises retailers to consider staffing implications. "Running a café requires more staff as there need to be people on duty at all times," she says. "However, you don't always need a proper kitchen, and if I open another store I might just serve cakes and panini which can be served by the front staff."
solutions for small spaces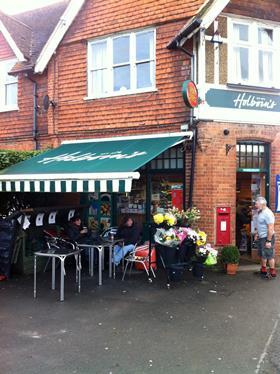 A lack of space doesn't have to mean you forego your share of the coffee shop coffers. As Dean Holborn can't fit a fully fledged café inside his store, he places tables and chairs outside his Nutfield, Surrey, outlet for customers to enjoy a croissant and coffee from the self-serve Tchibo coffee machine inside.
The seating area has resulted in a significant uplift in sales and "comes into its own in the summer," says Dean. It is also popular with mothers before pick-up time at the village school opposite.
On the Isle of Wight, retailer John Perrett also treads a fine line between food to go and coffee shop at his 3,000sq ft Spar Carisbrooke store. John sells a range of food to go, including baps, sandwiches, wraps, pasties and sausage rolls, which up to 20 customers at a time can enjoy in the seating area.
The Costa Coffee machine is a particular draw, because of the quality and recognisable brand, John says. The area attracts a regular crowd, who will combine lunch with top-up shopping. Clearly, the set-up is working with year-on-year sales up 20%.
Caffeine needs to hit the spot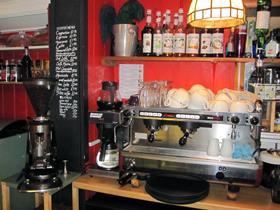 Consumers are taking their coffee more seriously than ever, so having a quality coffee machine is crucial to draw in the growing number of connoisseurs.
"Coffee is really important," says Tess Flowers of The Village Shop, Upper Dicker, East Sussex. "People are learning more about coffee and the trend has continued throughout the recession. You need to cater for quality as well as the cappuccinos and lattes."
Tess says she bought her coffee machine - 
a Cimbali 2 group semi automatic (above) - from Mokarabia for £3,000-£4,000. "They installed it, set the pressures, set the pouring length and trained our staff," she says.