Grocery sales through UK supermarkets and discounters continued to slow to +0.2% in the last four weeks, as shoppers delayed spend ahead of the seasonal Black Friday shopping period, according to latest Nielsen data.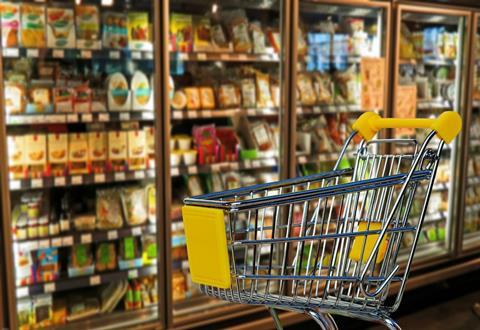 The shortfall in growth represents a significant drop when compared to the same period last year (+2.3%). This is partly due to shoppers switching spend away from the weekly grocery shop to take advantage of offers available during Black Friday, Nielsen said.
Sales across UK supermarkets experienced a decline of 0.7% during the Black Friday week (w/e 30 November), suggesting that deals on non-food items were more of a priority for consumers, according to Nielsen.
The big four supermarkets all experienced a decline in sales in the last 12 weeks, according to Nielsen data. However, Lidl showed significant growth (+13.8%), followed by steady growth at Aldi (+8.2%), The Co-operative (+3.2%), Iceland (+2.7%) and Marks & Spencer (+1.2%).
Sales of pet food / pet care and crisps and snacks also performed strongly during the same period (+1.6% and +1.3% respectively), while meat, fish and poultry (-2.2%) and household items (-2.1 %) experienced the biggest sales declines (Nielsen Scantrack Grocery Multiples).
Despite the slow start to the festive season, grocery shoppers are expected to spend around £7.2bn at the major supermarkets in the two weeks to 28 December (Nielsen Scantrack Total Coverage).
Nielsen's UK head of retailer and business insight Mike Watkins said: "Though it has been a disappointing start to Christmas, we must remember that around one-third of shoppers never intended to start their Christmas grocery shopping until December (Nielsen Homescan Survey 2019). This means that there is still a strong chance that grocery sales will pick up pace, but this depends on how the crucial final two weeks of the year perform. A late surge in sales is quite possible this year as Christmas Eve falls on a Tuesday.
"UK supermarkets must also take into account the increasing role of multichannel and omnichannel retail with modern consumers. Though 44% of UK shoppers still intend to do the big Christmas shop in a physical store (Nielsen Homescan Survey 2019), only 7% expect to do the full shop online and the remainder will shop across both. Retailers must therefore ensure that offers stretch across both platforms in order to effectively reach consumers.
"Cautious spenders will also be looking for alternative means of funding the big Christmas shop, with 35% intending to use their saved loyalty points. This signals the importance of loyalty schemes and vouchers, as consumers seek to reap the rewards at this time of year," Watkins added.