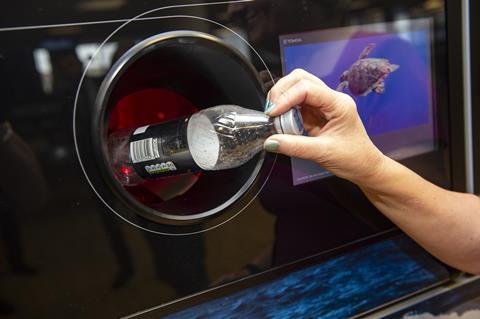 The proposed Deposit Return Scheme (DRS) must work with smaller stores to ensure a smoother implementation, retail trade body Association of Convenience Stores (ACS) has warned.
In its submission to the Environmental Audit Committee (EAC) call for evidence on the next steps for the implementation of the DRS, the ACS set out its key recommendations:
Strategically map the location of return points rather than mandating every location that sells drinks to take back containers
Small retail outlets should be able to apply for exemptions from DRS where they have limited sales and storage space or to facilitate a return point
Containers should only be return through a network of reverse vending machines
Handling fees must adequately cover the cost of taking back drinks containers
The scheme must work with other schemes such as EPR to avoid a double taxation burden on retailers
According to the ACS Voice of Local Shops survey, 71% of retailers responded that they either did not have the space to process bottle returns in-store or would have to make significant changes to their stores to facilitate a deposit return scheme.
The ACS also warned that the inclusion of glass in DRS would increase costs and create logistical issues. "ACS continues to have significant reservations about the inclusion of glass within the deposit returns scheme. Including glass brings significant costs in respect to reverse vending machines (RVMs). The cost for RVMs that can manage glass are considerably higher and more space intensive. It also presents several logistical operational challenges to convenience retailers who have little space in stores to cater for space intensive RVMs.
"Where retailers will only be able to offer manual takeback, the inclusion of glass will place pressure on staff and additional health and safety issues. For example, there is an increased risk of breakage which would mean staff handle broken glass. Glass containers also take up more storage space and difficult to move around retail premises. We are concerned about the challenges associated with crushed glass alongside food-to-go settings and food preparation areas. 12% of convenience stores operate food-to-go concessions, 28% have in-store bakeries and 22% host hot food to go counters. The presence of crushed glass within a close proximity of food preparation and serving incurs several environmental health concerns as well as difficulties for instore logistics."
ACS chief executive James Lowman said: "It is important that the Committee takes local shops' concerns into consideration and our priority remains with ensuring sector has sufficient support and guidance for implementation aided by government liaison, guidance, and a reasonable implementation period.
"We are committed to working with the government and the scheme administrator to implement a scheme that is workable for both smaller stores and consumers."