The Best New Store award at CRA 2018 has attracted an outstandingly high standard of entries once again this year, showing the willingness of convenience retailers across the country to make big investments in order to satisfy and raise customer expectations. Here we profile Spar Madigans Court, the second of three stores on this year's shortlist. The winner will be announced at the awards presentation evening on Thursday 15 March, to be held at the Royal Lancaster Hotel, London.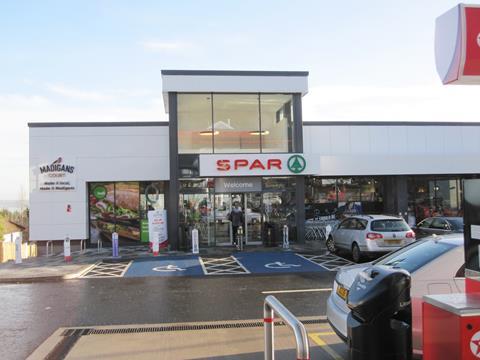 Spar Madigans Court is the first step into convenience retailing from Charioteer Ltd, whose directors have a background in the pub and bar sector. Built on the site of a former nightclub, the £2m project included flattening a slope to accommodate fuel pumps and car parking at both front and rear. After eight months of building work, the store opened on August 31 last year and is already achieving weekly sales of £100,000, split 70/30 between shop and fuel. Store manager Barry Cox (pictured) shows us around.

Fresh and Food To Go
Visitors are greeting by these spider fridges for cream cakes and floor displays for other treats.
Spar's Daily Deli food-to-go concept provides a plethora of hot and cold food-to-go options, served by a dedicated team of staff.
The fresh section is designated by a wooden-style floor, matched by an impressive 'raft' ceiling.
Another in-store section is a concession for Stanleys butchers, which has been trading in the local area for 30 years and enjoys a reputation for high quality.
Meat and pre-prepared meal dishes with the Stanleys label can be purchased over the counter or from a dedicated section in the chilled section of the store.
Overall, fresh participation accounts for 50% of shop sales.
A pleasant space
The store measures 5,000sq ft and is designed to give customers plenty of room to shop, or to relax in this pleasant seating area.
The development is built into the side of Belfast's landmark Cave Hill, which was previously known as Ben Madigan after an ancient king of Ulster, hence the name.
The location gives the site great local provenance, as well as providing spectacular views of the Belfast waterfront below.
It also means there is room to expand on the level underneath if required.
Premium wines
As part of the development, the owners acquired the business of a wine merchant who previously traded over the road from the site.
The business was brought into the store as Gap Wines, with the owner retained as a consultant and specialist supplier.
This expertise enables the store to source many premium and unusual wines, as well as offer an extensive range of craft beers, ciders and spirits.
Christmas week saw sales from the off-licence section hit a whopping £48,000.