The Best New Store award at CRA 2018 has attracted an outstandingly high standard of entries once again this year, showing the willingness of convenience retailers across the country to make big investments in order to satisfy and raise customer expectations. Here we profile Little Fresh, Pembrokeshire College, the third of three stores on this year's shortlist. The winner will be announced at the awards presentation evening on Thursday 15 March, to be held at the Royal Lancaster Hotel, London.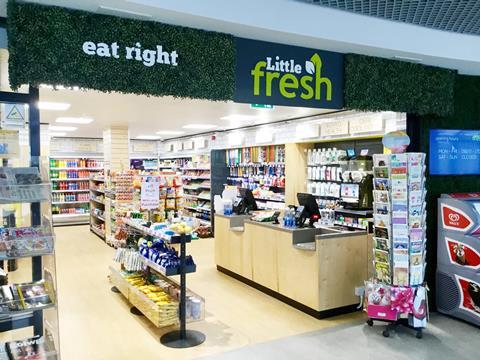 The 900sq ft Little Fresh - a Simply Fresh small store format - opened within Pembrokeshire College in September 2017. The store is managed by Sharon McDonald (above right), who works closely with college catering manager Mark Eagle (above left) to tailor the product mix to its customers. Little Fresh is especially strong on food to go, designed to meet the needs of a 2,000-strong student population looking for quick bites. Despite not selling alcohol or tobacco, turnover is hitting £9,600 a week.
Food to go
The Little Fresh store offers an extensive range of grab-and-go food, supplied by Country Choice. The line-up includes muffins, donuts and bars. Most sweet treats sit alongside a coffee machine and the store runs special offers for customers who buy both together.
Next to the machine is a hot water dispenser. The device can be used by students to add to drinks or snacks such as Pot Noodle. The store houses a large display of the student favourite.
There is a big focus on hot food to go, too. A Rustlers microwave is positioned above a Rollover machine.
The Little Fresh store also stocks hot food such as sausage rolls or pasties. The products appeal to the college customers who quite often only have a short time between lessons.
Product Mix
The store offers a competitively-priced meal deal, comprising sandwich, snack and drink.
Soft drinks are the most popular category, accounting for 30% of total sales.
Savoury snacks also do well. Students are time poor and would much rather snack between lessons than spend time travelling off campus to nearby supermarkets.
Sharon says she wants to increase the focus on promotions. "We want to make more space for offers that appeal to more of our students," she explains.
Technology
Just outside the store is a TV screen which can be updated by staff or catering personnel to highlight promotions and grab the attention of students or staff.
There are two tills in the Little Fresh store, taking mobile and contactless payment, which helps to speed up service.
Students who receive free school meals can pay for items using a card issued by the college. "Students can buy what they want and most people don't even know they receive school meals," says Sharon.