The Best New Store award at CRA 2018 has attracted an outstandingly high standard of entries once again this year, showing the willingness of convenience retailers across the country to make big investments in order to satisfy and raise customer expectations. Here we profile Spar Walkden, the first of three stores on this year's shortlist. The winner will be announced at the awards presentation evening on Thursday 15 March, to be held at the Royal Lancaster Hotel, London.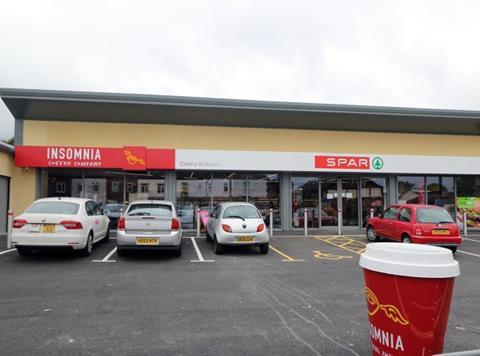 Mark Cleary opened his 2,800sq ft Walkden store in Greater Manchester last June. The store has a strong focus on foodservice, offering a Spar Daily Deli counter and a serve-over Insomnia Coffee fixture - one of the first in the UK - complemented by a focus on local sourcing and bespoke menus. The store offers a wide selection of chilled and alcohol, helping to drive up sales to £32,000 per week and growing. Mark has also embraced technology with self-serve tills, a coffee-ordering texting service, and effective social media strategy.
Foodservice
The store has been designed to offer a "relaxing environment", where customers can shop and socialise.
A sizeable seating area caters for the Insomnia café and Daily Deli counter. The Daily Deli chef regularly changes and re-invents the hot food menu.
Mark is also looking into bringing in a pizza oven and extending the Daily Deli closing time from 6pm until 10pm. He is also exploring the option of serving alcohol from Daily Deli.
Not only does Insomnia serve quality Fairtrade coffee and a chilled food offer, but Mark also recently introduced cakes from local firm Slattery. These have gone down a storm with customers.
The combined food-to-go offer is already turning over £5,000 per week.
Innovation
The installation of self-serve tills has given staff more time on the shop floor, says Mark.
The store is active on social media. When Mark promoted the new Slattery products on Facebook, he reached 19,000 people – driven by an offer of free cakes.
Mark recently introduced a 'text a coffee' service, which is proving popular with commuters.
He is in the process of launching the Spar Go app, offering users access to reduced prices and promotions.
Community links
The store is in partnership with Marie Curie, running fundraising activities on behalf of the charity – such as a tea party event held on the store opening day. Team members also completed the Scafell Pike challenge walk, which raised more than £800.
It is also in partnership with the Bolton Hospice, hosting fundraising collections.
The store makes regular home deliveries for those who can't get to the store easily.
The store hosts coffee mornings for local social groups, such as the Ladies Bolton Bingo Group.