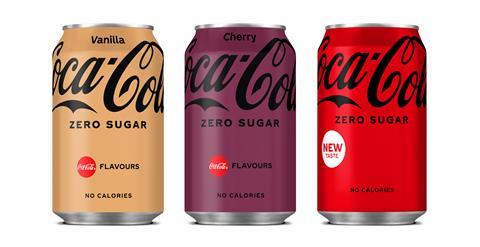 Coca-Cola Europacific Partners (CCEP) is rolling out Coca-Cola Zero Sugar's new look to its Cherry and Vanilla variants this month, and is celebrating with a nationwide sampling and marketing campaign.
The launch follows a successful year for Coca-Cola Zero Sugar. Now worth £322m (Nielsen Total GB incl. dis. MAT VAL to 19.06.21) and the fastest growing zero sugar cola in retail year-to-date (Nielsen Total GB incl. dis. YTD VAL to 19.06.21), CCEP claims its new and improved taste and impactful packaging design is helping to recruit new shoppers to the zero sugar colas segment (Kantar, YTD June, CCZS Category Recruitment, Actual Shoppers).
The company claimed research had shown that the new packs were easier for shoppers to find at the fixture (PRS In Vivo UK and Poland, July 2020), which means the Cherry and Vanilla variants – worth a combined £25m (Nielsen, Total GB inc. Discounters, Value (£) MAT to 27.02.21) and up £4m on last year (ibid) – will also gain from their redesign, states CCEP.
A continuation of the 'Open That Coca-Cola' campaign launched earlier this year, the summer burst will target young adults from the middle of August and will include sampling Coca-Cola Zero Sugar at festivals, via digital couponing and when students return to university in September.
Martin Attock, vice-president, commercial development at CCEP, said: "We know that our refreshed packaging designs help Coca-Cola Zero Sugar stand out on-shelf, and now that our flavours are included, the line-up looks stronger than ever.
"Flavoured zero sugar colas represent an exciting opportunity for retailers – if growth continues at the current rate, there's scope for an additional £14m in sales this year. That's why we're distributing more than a million packs with our latest sampling initiative – supported by another £3m media investment to keep the full Coca-Cola Zero Sugar range front of mind with shoppers, this summer and beyond."