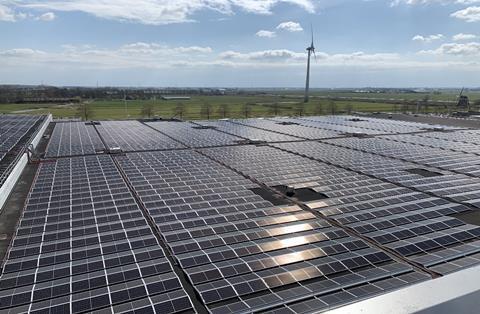 The world is facing a climate emergency, and now more than ever businesses need to take action by lowering their carbon footprint.
When it comes to today's increasingly conscious consumers, food and drink is an important focus. In fact, research from the Department for International Trade found that £230bn is spent on food and drink each year [1]. With so much money spent in the FMCG sector, it's one of the first places consumers look to see positive change, especially when it comes to sustainability.
An influential consumer group that embodies this new mindset is Generation Z; they'll make up 31% of the world's population by 2021. Having been raised on environmental beliefs and key issues such as global warming, this generation will be the first to be fully committed to protecting the planet and driving sustainable solutions.
This consumer group keeps a close eye on brands and have no problem switching their allegiance to those who are making a difference when it comes to sustainability. On average, eight in 10 consumers try to reduce their waste and half would be willing to pay higher prices for eco-friendly packaging [2], demonstrating the ever-changing landscape and growing loyalty towards sustainable products.
As a result, businesses need to adapt by making their supply chains and products more sustainable, or risk losing sales and, in turn, shelf space.
What this means for beer

This movement has already started inspiring change in the beer industry. Whilst many brewers have made huge steps in making sustainable packaging, there is still a lot of work that can be done to reduce carbon footprint, energy usage and emissions. Sol is a great example of a brand that is leading the way.
This month, Sol announced that it is now brewed with solar energy, after the installation of 4,000 solar panels at its brewery in Tadcaster and 9,212 solar panels at its brewery in Zoeterwoude. Since April 2020, all bottles brewed at both sites have been produced using renewable energy from solar power. The move marks an important step towards reducing the brand's carbon footprint, as part of Heineken UK's broader commitment to sustainability.
With consumers seeking sustainable products, all of Sol's primary and secondary packaging will showcase these changes by including the new tagline, 'Brewed with Solar Energy'. Driving standout on shelf, the tagline, alongside the new design that puts the sun at the heart of the brand, reaffirms Sol's positioning as a sustainable and environmentally-aware beer.
"At Heineken, we have an important role – as the UK's largest cider and beer company, we're in a unique position to make positive changes throughout the supply chain that can improve our carbon footprint," says Jan-Maarten Geertman, supply chain manager at Heineken UK.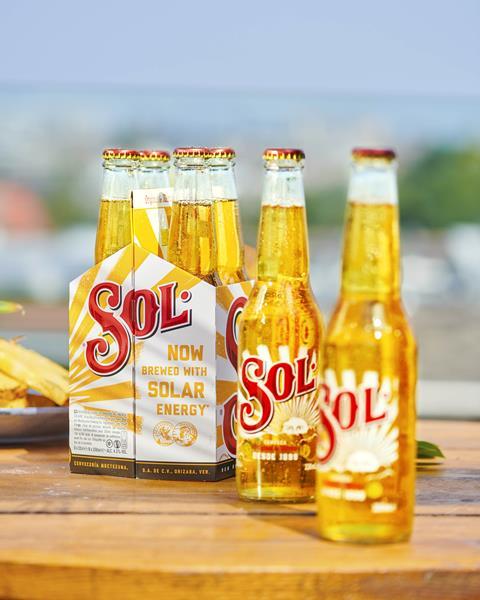 "What have we already done? In the last 10 years, we've cut carbon emissions by 69% and water usage by 25% in our breweries and cider making. We send zero waste to landfill and are eliminating consumer-facing plastic. We also source the vast majority of our ingredients locally, and have social and environmental purpose that appeals to conscious consumers.
"We're proud of the impact we've so far had but know there's much more that can be done, so our sustainability journey continues" adds Matt Saltzstein, Premium Beer Unit Brand Director at Heineken UK. "We've challenged ourselves to innovate sustainably and as a result, we're proud to share that the Sol brand is now brewed by solar energy.
"As its name suggests, Sol is all about the sun and our new tagline, 'Brewed with Solar Energy', reinforces our authentic, longstanding connection to it, whilst also showcasing our goal of becoming more carbon neutral to our sustainable-minded shoppers."
Brewing Sol with solar power supports Heineken's sustainable development strategy, Brewing a Better World, which aims to increase the share of renewable energy in production to 70% by 2030.
Encouraging retailers

With studies showing that consumers will pay more for sustainable products [3], retailers can unlock additional sales by stocking a variety of sustainable products. Sol is currently experiencing a +114% sales increase compared to last year, higher than the beer category (+21%) [4], and this growth is set to continue after the introduction of sustainable brewing.
Seventy-seven percent of UK grocery shoppers have switched, avoided or boycotted products because of the brands' environmental policies [5]. To avoid losing sales and space in-store, brands need to keep up and make changes.
SOURCES
[1] Food & Drink, Department for International Trade [website], https:// www.great.gov.uk/international/content/industries/food-anddrink/, (accessed 29 October 2019).
[2] Consumer views on packaging and the environment, ADHB [website], https://ahdb.org.uk/news/consumer-insight-consumerviews-on-plastic, (accessed 1 November 2019)
[3] https://www.inc.com/melanie-curtin/73-percent-of-millennials-are-willing-to-spend-more-money-on-this-1-type-of-product.html
[4] Nielsen Scantrack, Total Coverage, MAT Sales Value, Data to 17.10.20
[5] Kantar Research 2019