Although some of the upcoming HFSS legislation has been deferred by government, convenience retailers still face a challenge when it comes to re-organising shelf space and prioritising areas such as aisle ends to non-HFSS products. KP Snacks gives some timely advice on the issue.
The introduction of new high in fat, sugar and salt (HFSS) legislation, part of which is due to come into effect later this year, is one of the most significant changes to impact convenience impulse shopping in recent years. However, its nuances can be difficult to navigate, particularly for convenience retailers who have varying store formats and ways of structuring their businesses.
Shoppers themselves will not be made aware of this new legislation as the responsibility lies with manufacturers and retailers. The premise of the legislation is to influence and shift shopper demand into healthier options particularly for snacking and cupboard filling (non-HFSS), by making 'better for you' choices more visible within prominent impulse areas.
Snacks manufacturer, KP Snacks is helping to lead the way through the changes of the HFSS legislation, supporting retailers through new product development, brand reformulations, and by providing important category advice.
The company recently revealed its HFSS brand reformulation strategy, with Tyrrells, popchips, Hula Hoops Puft, and Penn State all being reformulated, with the non-HFSS products rolling out over the coming months.
By the time the new legislation is introduced, over 100 SKUs and a quarter of the KP Snacks portfolio will be non-HFSS, making it one of the most comprehensive non-HFSS ranges available within the crisps, nuts and snacks (CSN) category. Following extensive consumer testing, the reformulated products will still offer the same great tastes and bold flavours that KP Snacks is known for. The new range is set to deliver against KP Snacks' mission of 'something for everyone', with brands and formats to meet all occasions.
Brand reformulation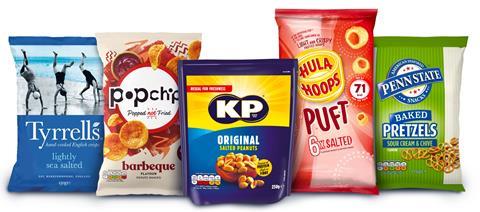 For premium sharing brand Tyrrells, the Lightly Sea Salted flavour (the number one SKU in the range) is being reformulated and will be available as non-HFSS in both sharing, multipack and singles formats from May. This follows Tyrrells Mediterranean Herb being launched in January this year. 46% of shoppers are more inclined to trade-up to premium food and drink options when dining at home1 and Tyrrells makes those in-home occasions feel more special, with non-HFSS options offering a healthier alternative, says the company.
popchips, a beacon brand in healthy snacking, will be reformulated across the entire range. This will be a phased roll-out, with the full range reformulated ahead of October. The range is worth £40m RSV and is growing in value by 28.7%2. Growing ahead of the healthier crisps and snacks category, popchips has contributed 58% of the growth in the segment3, notes KP Snacks.
The non-HFSS Hula Hoops Puft range, consisting of Beef, Salt and Salt & Vinegar flavours, will be rolled out by the end of June. At under 75 calories per pack, it is already one of the lowest-calorie snacks in the market.
The Penn State brand is growing in value, up 12.2%4, and the brand has introduced a new non-HFSS variation, Roasted Chilli Pretzels, offering a tasty and permissible snack with a hint of spice. Penn State's popular Sour Cream & Chive Pretzels will also be reformulated this month.
At the same time, nuts have been recognised for their natural credentials and are therefore excluded from the proposed legislation, offering a significant opportunity for category growth. Nuts are also a snack that fits multiple consumption occasions throughout the day, whether it's in-home sharing and pairing, a meal accompaniment or for a quick pick-me-up on the move. Therefore, KP Snacks is focusing on building its KP brand, which is the number one brand in nuts, over four times bigger than the nearest branded competitor5. KP is worth £81.7m RSV and is growing by 1.2%6 MAT, ahead of the nuts segment.
Further help for retailers
To help retailers adapt to the regulations and easily identify appropriate products, KP Snacks is introducing product cases stamped with a newly developed KP Snacks non-HFSS case flash. The clearly marked non-HFSS cases will support retailers by making it easier to navigate the wholesale aisle and locate products free from restrictions on positioning and promotions.
To provide retailers with a straightforward and comprehensive overview of KP Snacks' HFSS strategy and product reformulation programme, the manufacturer has also developed a simple step-by-step HFSS retailer guide. The KP Snacks HFSS Retailer Guide provides retailers with top tips for optimising their CSN fixtures to prevent lost sales as they adapt to the new regulations.
To conclude, retailers and shop owners will need to reflect, refine their store layout and range where needed, and revert to trusted partners and suppliers to ensure sales success. KP Snacks is a scale CSN partner, ready to lead and support retailers through this major industry change. As the leaders of category growth for the last 7 years and No 1 Branded Nut manufacturer (an exempt category), KP Snacks will be playing a key role throughout the introduction of the HFSS legislation.
To find out more or read the KP Snacks HFSS Retailer Guide, click here.
Sources
1 Kantar World Panel Data, 52 w/e 14.06.20
2 Nielsen IQ, Total Coverage, Total Value, MAT 26.03.22
3 Nielsen IQ, Total Coverage, Total Value, MAT 01.01.22
4 Nielsen IQ, Total Coverage, Total Value, MAT 26.03.22
5 Nielsen IQ, Total Coverage, Total Nuts Value, MAT 26.03.22
6 Nielsen IQ, Total Coverage, Total Value, MAT 26.03.22.

KP is home to some of the most iconic British snack brands and also produces all kinds of snacks for the UK's retailers. We have been creating 'Happy Snacking Moments' for decades, creating exciting snack ideas to meet the changing tastes and expectations of our customers and consumers. We're passionate about our products and our people and we hold ourselves to high ethical standards throughout our business and supply chains. KP Snacks is also proud to be part of the Intersnack Group, which was founded in Germany more than sixty years ago and made its first potato chips in 1968. Since then, it has grown and flourished to become a market leader in savoury snacks, present in over 30 countries across Europe, Australia, New Zealand and beyond.