Nisa explains why its latest Evolution and Express store formats are worth investigating by independent retailers
Following on from the development of Nisa's Store of the Future 2 Evolution format, which moves away from a one-size-fits-all approach to a more modular concept, the retailer has seen 130 stores converted to the latest format last year alone, despite the added challenges created by the pandemic.
Catering for retailers with compact spaces
Now, the business is looking to address the needs of retailers with a smaller footprint, launching its new Nisa Express format in its annual trade show in October, which was held virtually for the first time ever due to Covid-19 restrictions.
Nisa Express offers a dedicated fascia option and store format for smaller convenience and forecourt sites, with the latest technology and contemporary design providing a first-class shopping experience for the consumer.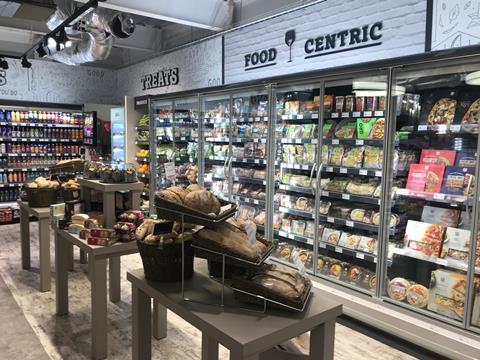 Catering for retailers operating in more compact stores of up to 1,000sq ft, three different formats have been developed to ensure there's a solution for a wide range of stores. Covering food-centric, forecourt and essentials, each design differs to meet the demands of the shopper, with format and range tailored for the specific market.
Fresh Thinking to support store development
Other key developments in recent months have included the launch of Nisa's Fresh Thinking proposition to partners, providing further insight and support to help them grow their businesses, as well as the development of Nisa's new website – nisalocally.co.uk – which has consolidated a number of existing sites to create one comprehensive platform that clearly and effectively demonstrates the Nisa offering.
Breadth of range
Nisa's flexible model provides its retailers with an unbeatable breadth of range of more than 13,000 SKUs. The roll-out of Co-op own brand has continued to be a key USP for Nisa partners and has included Co-op's extensive festive product range and the innovative plant-based GRO range, helping retailers to make the most of this rapidly expanding market.
In addition, the inclusion of over 2,400 Co-op own-brand products, across all categories, offers a recognised, quality brand for shoppers and good margins for retailers and, as part of the Co-op group, Nisa is making greater investment in price and promotions and improving its offer to partners, with increased buying power.
At a time when value is more important than ever to shoppers, strong promotions are key to the Nisa offer. The company's promotional alignment with Co-op has also given retailers access to sector-leading deals, with promotions including lunch meal deals, the popular £5 freezer filler deals, Super Saver Deals and more.
Meanwhile, Nisa's own award-winning own-label range, Heritage, provides even more choice, with quality products at affordable prices.
Latest technology for easy trading
Alongside its bespoke EPOS solution, Evolution, Nisa's latest technology offering is a new mobile app which launched in 2020. Free to download from the Apple Store and Google Play, it offers many advantages to retailers making it much easier to trade with Nisa and has been well received and widely adopted by Nisa partners. The app allows Nisa's partners to run their stores remotely, placing orders, checking stock and confirming order status all through their mobile devices, as well as receiving push notifications that ensure they never miss out on the latest deals because of being away from the back office computer.
Nisa retailers can source local products and have them invoiced centrally, creating a simpler, time-efficient process. All orders are placed directly with individual suppliers, deliveries are made direct to store, but the invoicing and administration is managed centrally. This is all delivered by Nisa's industry-leading supply chain, with an impressive 99.9% of deliveries made on the day and 95.2% successfully made on time.
Support on hand
Nisa provides a complete retail support package comprising a strong retail focused team, a staff training facility and a comprehensive marketing package incorporating social media and PR support, bespoke leaflets, point-of-sale material, a personalised Nisa FM radio network and national advertising.
Further investment has also been made in the form of additional resource within the recruitment team, and the formation of a new induction team dedicated to supporting new partners during their first 100 days with Nisa and ensuring a smooth transition process.
With a record number of retailers moving to Nisa Retail in 2020 and those investing in new and upgraded stores enjoying average sales uplifts of 12%, the company says there has never been a better time to become a Nisa partner.
Charity connection
With community involvement key to independent retailers, Nisa enables its partners to support local good causes through Nisa's Making a Difference Locally charity. Since the charity's formation in 2008, more than £12m has been raised for good causes and charities, with more than £1m raised in 2020 alone.
To find out more about how Nisa can help your independent retail business thrive, go to www.nisalocally.co.uk/retailers/becoming-a-partner/