With food waste at epic proportions in the UK, it's time for businesses to take a bolder and more efficient approach to waste, urges Too Good To Go

All convenience outlets have those days - the ones where customers don't buy the food on shelves, or trade is quieter than expected, leading to higher potential waste.
In addition, donation plans can collapse because the food isn't suitable for charity needs – or the store simply lacks the time and staff to get the food from A to B.
No c-store retailer, particularly one with an environmental conscience and CSR policy, likes throwing perfectly good food away. It's a waste of money, it's bad for the planet, it lowers staff morale, and it can feel very wrong, particularly in these times of heightened sustainability consciousness.
But according to government agency WRAP, 5% of UK food waste occurs at retail and wholesale level, adding up to 300,000 tonnes of wasted food a year.
Not only that, but food waste is one of the most important environmental problems facing the planet. An estimated one-third of food produced for human consumption is wasted worldwide, and is responsible for more than 8% of greenhouse gases. After all, when food is wasted, it's not just the food that goes to waste – it's everything that went into producing and retailing that food, from water, to land, to energy, to transporting it through the supply chain.
"Worldwide food waste is responsible for more than 8% of greenhouse gases"

- Too Good To Go
So what's the solution?
For a long time, food waste has been an inevitability that all stores have had to grapple with. For many stores, the only consistent, reliable partner for dealing with surplus, unsold food – even when it's still delicious to eat – has been the bin.
But there are solutions out there and, this Valentine's Day, Too Good To Go is encouraging c-stores to ditch the bin and be open to a new relationship – one that will help them with their food waste, while enabling them to do good, recover costs, and meet new customers… all via its app.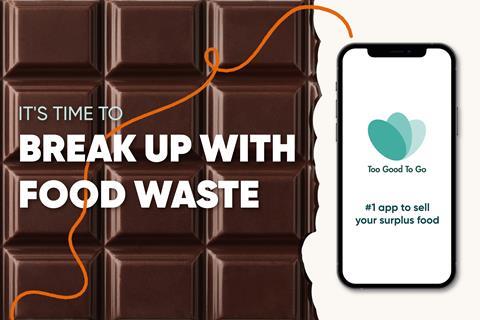 As the world's largest food waste-fighting app, Too Good To Go has 3 million UK customers ready to buy surplus, unsold food from grocery retailers, it says. To date, the company has worked with 1,000 UK grocery stores and its repertoire is growing all the time.
In November last year, Convenience Store reported that Costcutter Supermarkets Group was trialling the Too Good To Go app in 20 of its stores¹ and had already saved the equivalent of 1,000 meals.
Meanwhile, Nisa, which has been using the app since the end of 2019, has saved 17 tonnes of food from going to waste across 80 stores, equivalent to 42.5 tonnes of CO2e or flying London-Berlin 193 times.
"Since working with Too Good To Go, the amount of food we've been throwing away has dramatically decreased, we've been saving a lot of money and our customers are thrilled"

– Nisa partner Dan Brown of Pinkie Farm, Musselburgh
To date, Too Good To Go has saved more than 3 million 'Magic Bags' of surplus, unsold food from going to waste at shops and restaurants across the UK. In terms of CO2e, that saved the equivalent of 662 round-the-world flights.
The system is easy to use, says the company. The retailer simply updates the app to show how much surplus food it has to sell and rather than listing individual portions of food, fill a 'Magic Bag' with food that hasn't sold in time. Customers search the app for local stores, purchase the food via the app, then collect it at the time set by the grocer, at a reduced price that's fair to both parties.
"The result?" it says. "Every meal saved is one step closer to helping – and loving – the planet."
Too Good To Go: snapshot
● Money in your pocket. The company's 'Magic Bags' system means grocers can earn incremental revenue on food that would otherwise be thrown away.
● Simplicity. The simple-to-use system can be integrated effortlessly into everyday operations.
● Make it a date. If you are ready to break up with food waste, contact Too Good To Go and put an end to the long-term relationship with the bin
● Visit toogoodtogo.co.uk to find out more.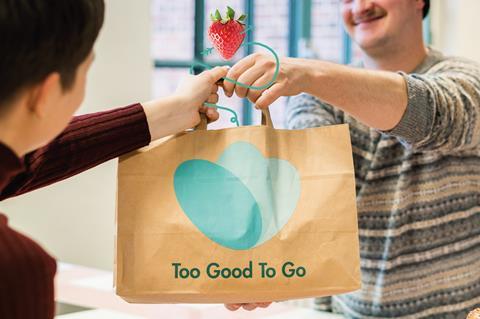 Source
¹ https://www.conveniencestore.co.uk/business/costcutter-links-up-with-food-waste-app-too-good-to-go/650812.article