Global snack maker Calbee has launched new packaging for its Yushoi oven-baked pea snaps portfolio.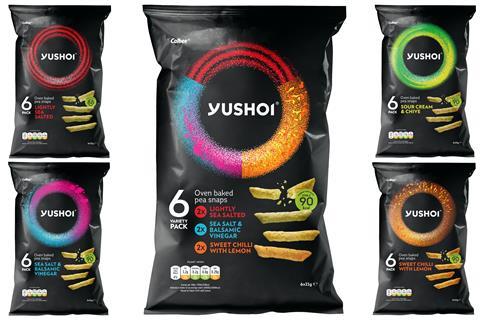 Available in the UK from July, the aim of the updated packs is to enhance on-shelf stand out with a design inspired by the brand's Japanese homeland.
The new packaging will roll out across Yushoi's 21g singles (rrp 69p), 6 x 21g multipacks (rrp £1.69) and 105g sharing bags (rrp £1.79). Made from 68% green pea, the gluten free, vegetarian friendly oven-baked pea snaps are a source of protein, high in fibre with 90 calories or less per serving.
The updated bags will come in sea salt & balsamic vinegar; sweet chilli with lemon; and lightly sea salted flavours. New variant: sour cream & chive will also make its debut next month.
The packaging redesign and new addition will be supported with a digital marketing campaign including Instagram-focused advertising, as well as sampling at key events. Around 28,000 free packs of Yushoi will also be given away with newspapers.
Jon Wood, commercial director of Calbee Group UK Limited, said: "We've invested heavily in Yushoi's new packaging to ensure continued growth following an excellent three years for the brand. We have worked hard on product redevelopment to strengthen our consumer offering with the reinvigorated packs and improved flavour range.
"Health is key for the brand and it's important we continue to invest in areas which allow us to communicate Yushoi's multiple benefits to the customer. As well as being bold and impactful, the new packs are clear and informative and we're confident the new look will play a vital role in Yushoi's ongoing development."
The new look Yushoi range will be made available to convenience retailers from July 8 via selected wholesalers, including: Epicorium, Tree of Life and Suma.