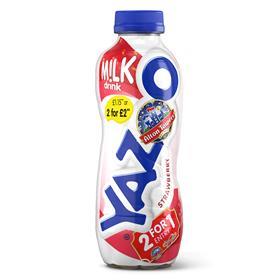 Flavoured milk drink Yazoo has refreshed its pricemarked pack (PMP) portfolio for 2022.
Rolling out from the beginning of February, the brand's 1 litre bottles will be available as a £1.79 PMP; while the core 400ml bottles are in a £1.15 PMP, with an additional flash showing a 2 for £2 offer.
Yazoo is currently worth £74m, and £32m of sales (43%) come through the convenience channel, with PMPs representing 64% of these sales [ IRI, Marketplace, Convenience, 52 w/e 03.10.2021].
Wayne Thompson, business unit controller for out of home at FrieslandCampina, said: "PMPs are popular with both retailers and consumers alike, protecting retailer margins whilst ensuring a positive price perception among shoppers. We know from our consumer research that Yazoo shoppers are often looking to make multiple bottle purchases, so the 2 for £2 offer provides value for money, especially as we head into another new year marked by economic uncertainty."
"Yazoo offers PMP variants of all core flavours (Chocolate, Strawberry, Banana and Vanilla) as well as across its limited-edition flavours, meaning retailers can tailor their offering to suit their stores. Stocking PMP formats can help to increase impulse purchases, lead to higher basket spends overall and gives convenience retailers an important point of difference, especially with many consumers continuing to shop locally [ British Independent Retailers Association, December 2021]."
Available in depot, wholesale, and convenience channels, the PMP will be supported by on-site activations where applicable.