Nisa retailer Sid Ali, who owns four stores in Aberdeenshire, Scotland, has noticed that his customers are increasingly on the look out for free-from and gluten-free products.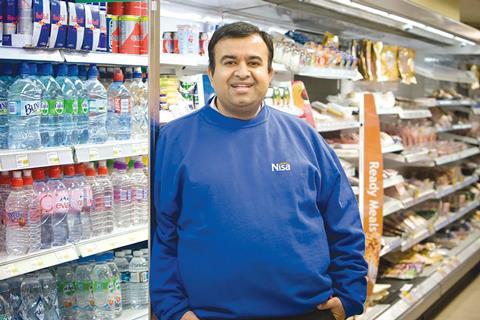 He says: "We've noticed that a lot more people are interested in free-from and gluten-free lines and I think this is being led by companies like Quorn.
"The brand seems to be getting a lot more traction in the convenience channel and their range of products works particularly well in the freezer. We are just about to review our range to see what additional lines we need to add to our mix.
"We can get a really strong range of gluten-free products through the Co-op too but, now that we have access to over 2,000 products, it does take a bit of time to get used to what works and manage your supply to match customer demand.
"What's interesting is that we are seeing demand for gluten-free increasing but also noticing customers opt for the premium own label when they want something more indulgent.
"I think people are shopping this way because they think they have been good all week so they can afford to treat themselves to something of higher quality. We are seeing this particularly with the Co-op's Truly Irresistible sweet treats.
"In our area, people seem to have a bit more money in their pocket as austerity is easing off so are happy to pay more for a product that tastes better or is better for them.
"That's not to say people aren't still looking for value. This is shown by the drop in sales of single chocolate bars as people move to the multi-packs which offer them more for their money.
"I think the single bar category will be gone within the year if brands don't realise that they need to introduce a better pricing structure for their products. We've taken out most of the singles in one of our stores and have replaced them with £1 tablets.
"This has been such a success that sales have increased by 400%. We now sell around 45 blocks a week so it is definitely something I would recommend other retailers look at."
Star performers
"Our range of price-marked products is really popular with the local kids because they can get more for their money and buy their lunch in bigger volumes than if they opted for something like a £3 meal deal."
Successful NPD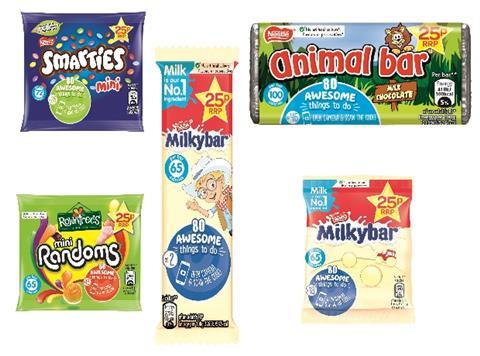 "Nestle's small bags of chocolates have done very well. I wasn't sure about them at first but one of the reps came in and set up a display with sections for each of the products which made them look really attractive.
"They work out as five for £1 so they are really good for kids or those on a budget. The smaller portion size also means they are lower in calories.
Nestlé Confectionery unveiled its new line-up of 25p sweets and chocolates in March this year.
The new range comprises small packs of Milkybar Kid bars and pieces, Smarties Minis, Animal Bar and Rowntrees Mini Randoms, each containing less than 100 calories.
Nestlé has developed accompanying POS units for the portfolio, featuring a large 25p flash. The launch was also supported by an '80 Awesome things to do' on-pack promotion and social media campaign.