In an attempt to tap into consumer demand for soft drinks with low or no added sugar, Vita Coco has launched a sparkling version of its canned coconut water.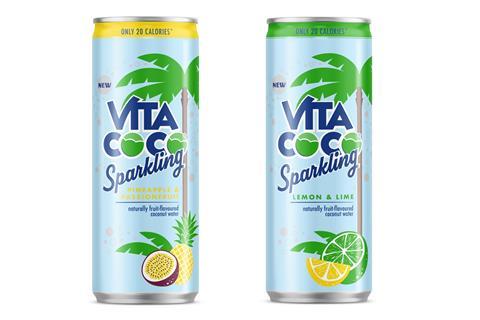 Made with naturally occurring electrolytes and potassium, Vita Coco Sparkling is available in two flavours: lemon & lime; and pineapple & passionfruit. The drinks contain 100% natural ingredients, 20 calories and 3.7g of sugar per can.
The launch is being supported by a multi-channel media campaign throughout the summer, designed to champion the benefits of the new range and centred around the tag-line: 'Bubbles with Benefits'.
The activity includes a large summer party held for brand ambassadors in London, nationwide out of home advertising, paid social media content, influencer marketing, product sampling and experiential events.
Tim Rees, managing director at Vita Coco, said: "The launch of Vita Coco Sparkling in the UK is a huge milestone for us. We have seen retail sales of carbonated water grow by 88% in the last six years and consumers are now actively looking to reduce their consumption of sugar.
"Vita Coco Sparkling is a completely new innovation in the coconut water market and looks to satisfy the demand for a healthy and hydrating sparkling drink, with all the benefits of coconut water. With its distinctive flavours and profile, Sparkling is broadening the appeal of coconut water and bringing new moments of consumption into the category.
Rees added: "We're pleased to be able to bring exciting new innovations to the coconut water market through Vita Coco, whilst staying true to the success factors that have helped our brand and category grow so successfully over the past decade."
The Vita Coco Sparkling range is available to independent retailers through the Co-op and Bestway, with further national listings to be announced at a later date. The drinks come in 330ml single cans (rrp £1.69) or multipacks of four (rrp £4.99).