Vapouriz is gearing up for the launch of its first refillable pod kit, the Vpod, available in the convenience channel later this month.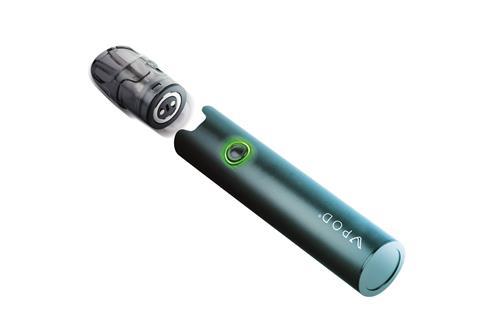 The device features a 2ml refillable pod, a long lasting 1000-mAh battery and is available in four colourways.
With an rrp of £24.99 (including two pods), the new device has been designed to offer vapers greater choice than currently exists in the pre-filled pods market.
The Vpod provides retailers with a sales solution compatible with high PG and 50|50 liquids, Nic Salts and isolate based CBD liquids.
The refillable pod also limits the wastage and environmental impact associated with pre-filled pods.
"With the current limited choice in pre-filled pods, especially for those wanting a lower strength combined with poor leakage of the refillable pods, Vapouriz set out to find an innovative solution to delivered customers' satisfaction," Vapouriz chief executive Brett Horth said.
"We know that people want an easy to use vaping kit, giving them choice of flavours and strengths, but without the fiddly, leaking refills that are currently available.
"We have introduced an innovative and, importantly, reliable 2ml pod – which means less fuss and mess with refilling, less waste and customers have complete personal and flexible choice over their flavour and strength; with a high performance 1,000 mAh battery means it can last even the most ardent vaper the whole day," he added.
The rise of the pod system has contributed to the growth of the vape market in the UK, with many vapers including one in their repertoire of devices.