Bravura Foods, the fastest growing vegan distributor in the UK, is introducing a range of CBD drinks that will be made available to convenience stores via Tree of Life and The Health Store.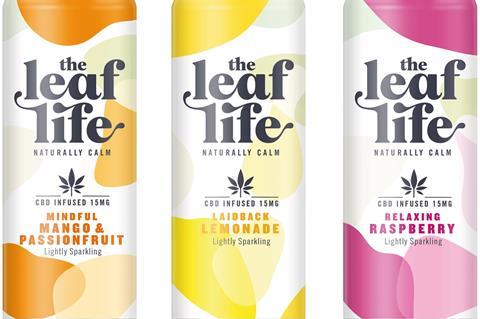 The CBD infused, lightly sparkling range will also be sold under a new brand: The Leaf Life and will make its retail debut at the end the month..
Available in slim-line 250ml recyclable cans, the drinks carry an rrp of £1.99 and come in three flavours: Laidback Lemonade; Relaxing Raspberry; and Mindful Mango & Passionfruit.
The natural drinks contain 15mg of full spectrum, fully certified CBD and are free from all artificial flavours and colours. The range is also certified by the Vegan Society; the Vegetarian Society; and exempt from the EU's ruling on Novelty Foods.
Lisa Gawthorne, co-founder and director at Bravura Foods, commented: "We're so excited about this launch, not just because it's one of our own brands, but because it really tastes amazing, with only 19-25 calories per can. It's also the lowest sugar CBD drink on the market, made without any artificial sweeteners.
"In a stressful modern world, we're changing the way we manage our health and wellbeing. The market for CBD products is set to boom in the coming years, as more and more people look for products that can help with natural calmness and tranquility."
Karl Morris, co-founder at Bravura Foods, added: "Everyone who has tasted it says it's just like drinking a carbonated fruit drink and that is exactly what we wanted. We have used wholesome natural ingredients including the CBD to try and deliver a fantastic tasting product with a functional and beneficial twist."