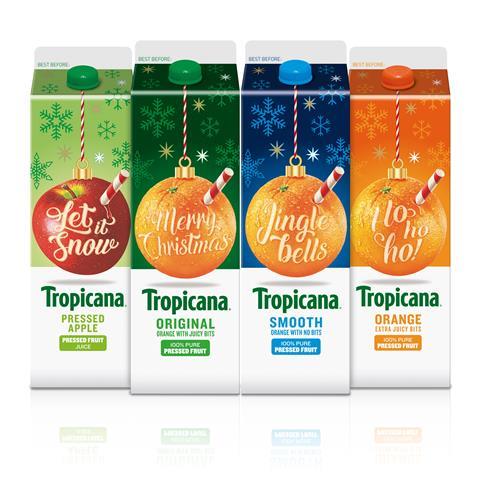 PepsiCo is aiming to drive cut-through with its Christmas pack designs on selected orange and apple juices.
Seasonal slogans and imagery have been added to 950ml, 1.4l and 1.6l cartons of Tropicana, which was recently voted the UK's favourite juice brand (Savanta - BrandVue Drinks study, 2020). PepsiCo claims that the seasonal packaging will build upon the momentum Tropicana has seen this summer, with an additional 500,000 shoppers buying into the brand (Kantar MAT 12.07.20).
Caroline Wilding, marketing manager Tropicana UK, said: "This year, we have seen shoppers turn to brands they love and trust. During the festive season, chilled fruit juice category sales accelerate to +121% in comparison to the rest of the year4 and, as we now move towards Christmas, retailers have a great opportunity to capitalise on this demand.
"As shoppers look to their favourite food and drink items to enjoy over the festive period, we're expecting a seasonal spike in 'Not from Concentrate' juice sales over the Christmas period. Tropicana's limited period Christmas packs will once again give shoppers that festive feel-good factor this winter."
PepsiCo claims that Tropicana is the UK's number one chilled fruit juice brand (Nielsen, chilled fruit Juice Category, Value sales YTD 01.08.20).