Tropicana's new juice range - Tropicana Whole Fruit – is set to hit c-stores this month and is made using a pressing process which retains more fruit fibre.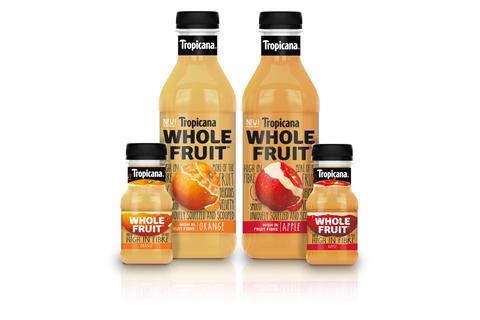 Each product in the new range counts as one of your five a day and features more whole fruit than other juices and smoothies currently on the market.
The new Whole Fruit portfolio are designed to help consumers increase their fibre intake and the amount of nutritional value they get from everyday soft drinks.
Caroline Wilding, marketing manager for juices at brand owner PepsiCo UK, said: "To create Whole Fruit, we used our expertise to craft a new pressing process which makes more of the whole fruit drinkable. We use everything but the pips and peel to retain fibre, which is a key nutrient lost during traditional juicing".
"The result is a delicious drink with a velvety-smooth texture that contains more of the nutrition from the whole fruit in every serving. Packaged up in 150ml bottles, new Tropicana Whole Fruit helps consumers achieve their daily recommended intake of fruit and fibre and delivers Public Health England's recommended daily juice serving."
The launch of Tropicana Whole Fruit will be supported by a multi-million pound advertising campaign over the summer, spanning TV, social media and in-store support.
Available from this month in two flavours: Orange and Apple, the Whole Fruit range comes in three formats: 150ml bottles (rrp £1.49), 750ml bottles (rrp £3.29) and 4 x 150ml multi-packs (rrp £3.29).