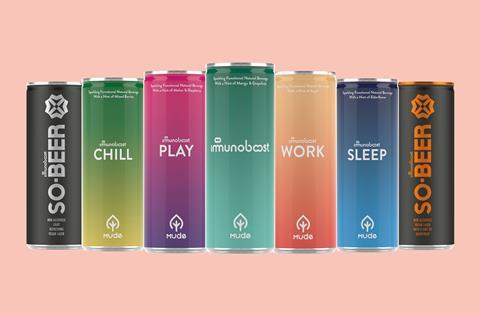 The company has launched isotonic soft drink and alcohol free ranges which claim to support the immune system.
Designed to meet the needs of today's health-conscious consumers, the drinks all contain the firm's signature plant-based 'SuperLiquid' ImmunoBoost, which is filled with polyphenols, vitamins and minerals, including immune system-supporting selenium. Both ranges contain all natural ingredients and are made through a unique brewing process that utilises beta-glucan to facilitate quick absorption of the nutrients. All drinks are low sugar, low calorie and vegan.
The Mude range of naturally brewed functional beverages comprises five varients: ImmunoBoost (mango & grapefruit), Sleep (elderflower), Chill (mixed berries), Play (melon & raspberry) and Work (apple). The drinks have been specifically designed to support a positive physical and mental change in consumers to help them take control of their day, claims the company. A single 330ml can has an rrp of £2.50 and a 4 x 330ml multipack has an rrp of £7.
The Mude range is complemented by So.Beer, a range of refreshing plant-based alcohol-free lagers with added immune-supporting benefits. So.Beer is available in original and grapefruit varieties (rrp: £6 per 4 x 330ml multipack).
Catherina Butler, CFO and co-founder of The Naked Collective said: "We are delighted to bring our first range of innovative super drinks to the UK market. The Naked Collective is doing something new and exciting by tapping into the huge demand for beverages that are genuinely healthy and sustainably produced."
Niall Phelan, CEO and co-founder of The Naked Collective added: "Consumers have never been so invested in preserving their health and protecting the planet, yet the current drinks market lacks choice. In launching Mude and So.beer drinks, we meet the need for products that are clean, healthy and natural as well as being great alternatives to alcohol."
The Mude and So.Beer ranges are available to order through Go 2 Grocery.
All packaging is highly recyclable which fits in with The Naked Collective's commitment to the environment and their carbon neutral status.