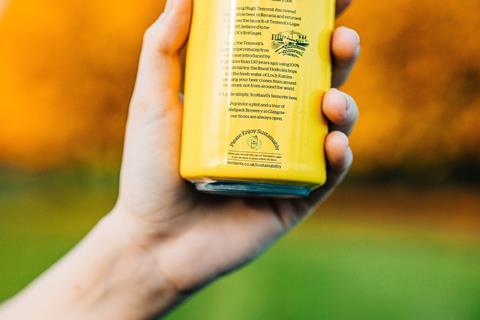 Scottish lager, Tennent's, has created a new can with a prominent 'enjoy sustainably' message on its side.
The announcement was revealed during COP26, which is taking place in Tennent's hometown of Glasgow.
The caution will sit alongside the 'drink responsibly' message and is hoped to encourage recycling ahead of the Scotland's deposit return scheme. The scheme will come into effect next year, with customers paying a deposit of 20p when they buy a drink in a single-use container and then getting it back when they return the empty bottle or can.
Earlier this year, Tennent's officially moved out of single use consumer plastic, and now the brewer will be rolling out the new eco-conscious can, which could be on-shelf as early as January 2022.
Cameron Matthews, Tennent's senior brand manager, said: "Being a responsible alcohol brand in 2021 means more than advocating moderate consumption – it means doing all you can to be environmentally positive too. Within our business, we are committed to leading the way when it comes to sustainability – but there is a really important role for the public to play too. We wanted to use our reach to help keep the issue – and the ways that we can work together – front-of-mind.
"When recycled, aluminium can be back on shelf within 60-days, which is a fantastic example of the circular economy in action - with impact on litter and CO2 emissions. It may seem like such a simple action, but by recycling cans, everyone can make a big difference."
Despite the impact of the pandemic, which saw large parts of the hospitality sector closed or restricted in operation, Tennent's pledge in 2019 to invest £14m in its environmental initiatives saw the installation of an anaerobic digestion plant (2019), the largest carbon capture facility in Scotland (2020), and a £7m investment in packaging equipment to introduce cardboard outers for all canned products (2021).
Tennent's has also released a new campaign this week, highlighting its eco-innovation and relationships with Scottish suppliers to encourage people to buy local.