Teapigs is introducing a brand new range of infusions to make it easier for consumers to make cold brew tea.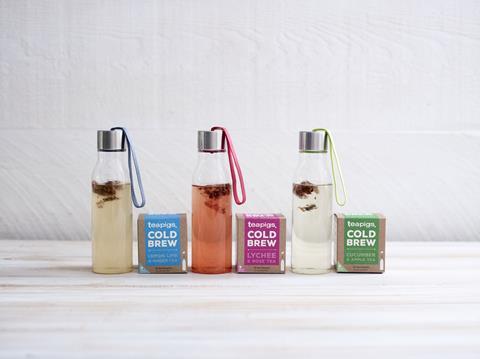 The line-up consists of three flavours: lychee & rose, apple & cucumber and lemon, lime & ginger, which can be added to cold water to create a fruit drink without the need for boiling water, added sugar or syrup.
Louise Cheadle, co-founder of Teapigs, said: "We have been working with cafés for the last few years encouraging them to make delicious jugs of iced teas where you boil the water to make a concentrate before chilling it down. This works well for some sites but not for all and can be especially challenging in locations with unpredictable footfall.
"Our new cold brew range comes in three delicious flavours - lychee & rose, cucumber & apple and lemon, lime & ginger– and the infusions are specifically designed to brew quickly in cold water. The fresh ingredients with no artificial sweeteners, no sugar and no artificial flavours are an ideal healthy alternative to some of the more indulgent summer drinks and can be made in bulk for a foodservice offering or simply popped in a glass."
Teapigs cold brew range will be available to trade retailers from this summer, with an rrp of £3.95 per box of 10 tea temples.