The firm claims to be the only mainstream brand offering the on-trend flavour in a 250ml format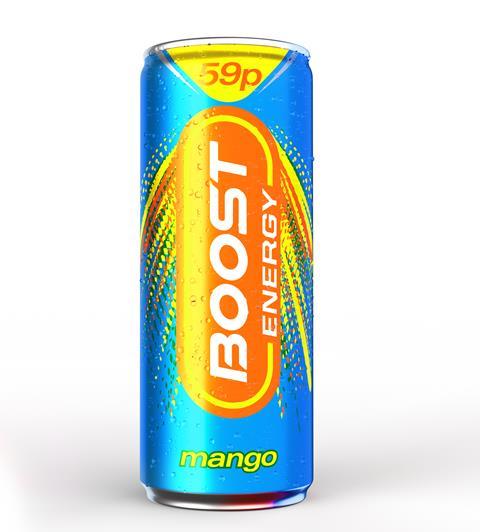 Boost Drinks is shaking up the energy category with a new Mango variant, available exclusively for independent retail outlets from 5th April.
The Mango energy drink, derived from real fruit extract, will come in a 250ml 59p PMP format, as the functional drinks brands looks to demonstrate its continued support to the independent convenience sector by offering retailers a clear point of difference in their stores over the major multiples.
The launch of the new SKU aims to attract new shoppers to the energy drinks fixture, with Mango being one of the fastest growing flavours in the category, seeing an impressive growth of +22% YOY (IRI Marketplace Data Symbols & Independents 52 weeks volume sales to 6th September 2020). Flavours now contribute 30% of energy stimulation sales (IRI Marketplace Data Symbols & Independents 52 weeks value sales to 27th December 2020), with more than a third of shoppers revealing they make their purchase based on flavours alone (Cousins Davis Segmentation research, Cousin Davis U&A research).
Simon Gray, founder and managing director at Boost, said, "To stay ahead of the curve, we continually evaluate consumer and market trends to identify the next exciting flavour to add to our range. We are excited to bring innovation to the category, without compromising on our commitment to independent retailers and the promise of strong cash margins, something Boost is renowned for. We can't wait for Mango to hit the shelves this month and stocking this NPD will mean retailers can be sure that they're offering a product that not only meets but exceeds consumer needs."
To support the NPD launch and drive buzz and excitement within the category, Boost is activating a comprehensive multi-channel marketing activation plan, targeting both trade and consumer audiences. This will include in-depot support such as sampling, experiential activity and Mango-specific distribution driving activity from May, to help land the product on-shelf. New POS in the form of Shelf Talkers and Wobblers will also be easily accessible via Boost's new website and available free of charge for retailers, with Boost delivering this direct to stores.