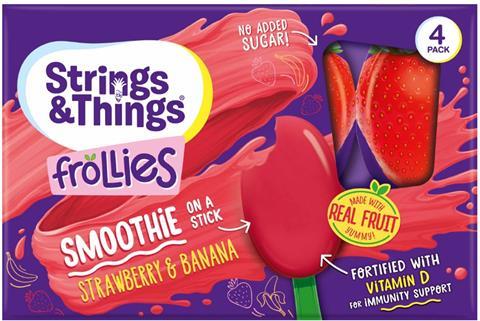 The Kerry Group's Strings & Things range is to be expanded to include Frollies, a brand-new fruit smoothie on a stick.
The new product will be available in convenience from August in Strawberry & Banana flavour.
Frollies are chilled smoothies on a stick made with real fruit and are designed for both kids' lunchboxes and on-the-go. Each Frollies pod, offered in packs of four (rrp £1.75), contains quirky challenges or quiz questions to bring some fun back into lunchboxes this summer.
Frollies will be supported by a £1 million marketing campaign across TV, VOD, digital & in-store. Airing in September, a key time for retailers in the back-to-school calendar, the new advert will highlight the product's role as a family-friendly solution as parents search for healthy yet fun snacks for kids. The ad will aim to drive awareness of the new range and help to generate sales for retailers during this crucial time.
"We are thrilled to be launching Frollies for retailers to stock up on just in time for back to school," said Becky Youseman, senior brand manager at Strings & Things. "The new launch is a really exciting development to the way kids snack and is evidence of our commitment to innovating in the category – helping to make kids' snacking fun. We worked with The Pineapple Lounge to develop this new product and their research unearthed that kids and parents love a snack that feels treaty yet healthy and refreshing. We're confident Frollies ticks all of these boxes; allowing kids to enjoy their love for smoothies and fruity flavours in a fun, unique way."