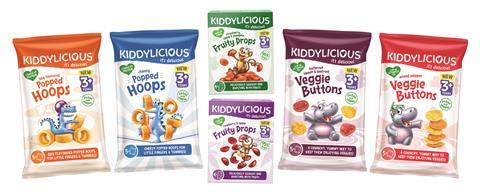 Kiddylicious, which claims to be the number one UK Baby Snacks brand with 32.3% market share (Kantar Worldpanel, Value Share Category 52 w/e 18.4.2021) has launched a sweets and snacks range for children aged 3+ years. The range includes tot-friendlier alternatives to mainstream adult snacks, including Veggie Buttons, Popped Hoops and Fruity Drops.
The firm states that the range will appeal to discerning preschool parents, who until now have turned to snacks with a broader adult-appeal to keep young ones satisfied. Portion-controlled for "tinier tums'' and "fit for little fingers", the fresh Kiddylicious range is designed to keep parents in the category for longer, adopting reassuring nutritional claims, including 'low in saturated fat', 'packed with veggies' and 'over 95% fruit'.
Veggie Buttons (5-pack, rrp £2.50) are air-popped, not fried, and low in saturated fat. They come in Mixed Pepper and Butternut Squash & Beetroot flavour combinations.
Popped Hoops (5-pack, rrp £2.50) are "packed with veggies", each serving provides a source of protein from lentils and rice and is available in Cheesy and BBQ flavours.
Fruity Drops (4-pack, rrp £2.50) are jelly roundels made from 96% fruit and high in fibre. They are available in Strawberry, Apple & Pumpkin and Raspberry & Apple.
Grazing is particularly important for the 3+ years segment in managing mood, claims the company, yet Kiddylicious research highlights snack confusion and a perceived lack of options in the baby aisle. Twan Thorn, managing director, Kiddylicious UK, explained: "By enticing parents to stay in the category for longer, this first-to-market innovation is another example of us supporting parents when they need it most".
The ranges are suitable for lunchboxes, changing bags and jacket pockets, and have launched in time for the back to school promotional window. They will be supported by a national campaign that includes advertising, promotions and social media.