Porridge oats company Stoats has revealed a fresh new look for its product range, including a revamp of its packaging which is now 100% recyclable or compostable.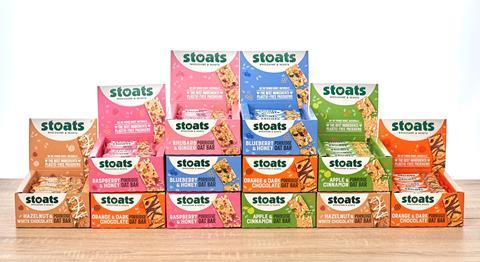 The new packaging is made using Natureflex compostable film for its porridge bars and compostable PLA lining in its porridge pots.
In addition to the launch of the sustainable packs, Stoats has also reduced the level of sugar in its porridge oat bars by up to 20% - in response to consumer demand for less sweet snacks. All bars remain palm oil free and come in flavours such as apple & cinnamon and raspberry & honey.
Tony Stone, managing director at Stoats, said: "Our new branding reflects our core values as a company; to be simple, genuine and cheerful.We have always been committed to using whole, natural ingredients and we're thrilled that we've been able to respond to our customers and extend these principals to our new packaging, minimising the impact the business has on the environment.We are the biggest cereal bar manufacturer in the UK to commit to using plastic-free packaging and we're very proud that our independent company has become an industry leader in this respect."
Stoats has also printed a new on-pack message across its range: 'With this pack you're giving back'. The call to action is designed to show how a portion of the sale of each Stoats product goes to four charities chosen by consumers every quarter.
Last year, the company donated more than 100,000 porridge oat bars to local foodbanks. All Stoats products are available to c-stores and independents through wholesalers Bidfood and Brakes.