St Pierre Groupe is looking to add some excitement to the bakery category with new flatbreads from Paul Hollywood.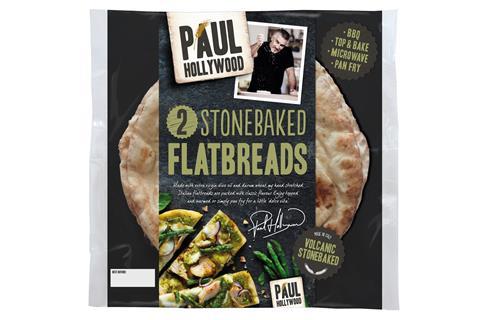 Available to convenience retailers now, the stonebaked flatbreads (rrp £2) come in packs of two and are hand-stretched using a traditional method.
They are made with extra virgin olive oil, durum wheat and baked in a hot stone oven for added flavour. St Pierre hopes the product will tap into consumer demand for diverse and innovative bakery options.
Jeremy Gilboy, founder of St Pierre Groupe, said: "The expertly crafted product will reinvigorate the bakery category while strengthening St Pierre Groupe's position as a market leader.
"The Paul Hollywood ready to bake range is already a firm consumer favourite, therefore we are confident our entry into the fresh bakery category will be a success. This fantastic new product is yet another testament to the quality and innovation that consumers have come to expect from Paul Hollywood."
"I'm really excited to be launching my new flatbreads," Hollywood added. "They deliver exceptional texture and authentic flavour and I'm confident they will have real stand out in the fresh bread category."