Malt Loaf brand Soreen is aiming to raise awareness of the benefits of swapping a cake bar for a Soreen bar for a healthier choice.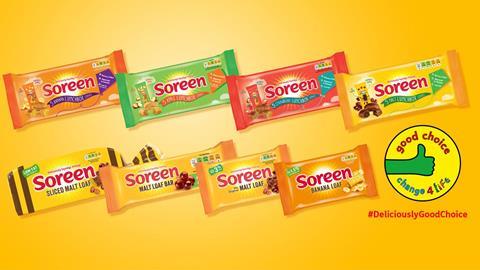 The company is a supporter of Veganuary and is also continuing its support for public health programme in England Change 4 Life, by using the Good Choice badge on its lower-sugar products.
Soreen md Mark Simester said: "People don't often realise that Soreen has always been a much healthier option within sweet snacking. For example, our original Lunchbox Loaves have less than half the sugar than an average cake bar and 86% less fat. It's a healthier swap without compromising on taste, which is why it's a hit with children and families."
The Change 4 Life campaign began in 2009 and encourages families to cut back on sugar by making a few simple swaps to their everyday food and drink. Orla Hugueniot, Change4Life nutritionist at Public Health England said: "We are pleased that Soreen is supporting Change4Life again this year. We want to help families identify healthier choices and by using the Good Choice badge, brands such as Soreen are helping to achieve this."
Available in four different flavours – original malt, banana, apple and strawberry – all of Soreen's Lunchbox Loaves contain less than 100 calories a portion. They also have no reds in their nutritional traffic lights and are a source of fibre. Apple and strawberry lunchbox loaves are vegan friendly, as is Soreen's Banana Loaf Bar, which contains 135 calories and has 32% less sugar and 58% less fat than the average snack bar, making it a popular on-the-go snack.