Swiss wellbeing brand Ricola is adding a Soothe & Clear range to its UK portfolio in an attempt to shake up the medicated confectionery market.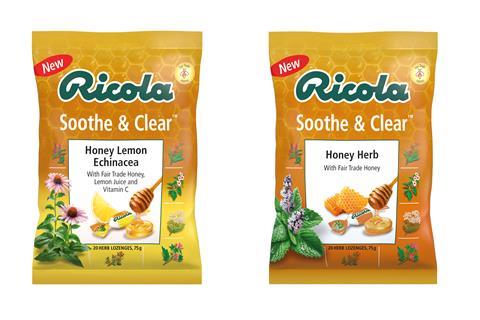 The new range of throat soothing lozenges contain the Ricola mix of 13 herb extracts, combined with natural ingredients such as fairtrade honey, lemon juice, echinacea and natural menthol.
Available to independents and convenience stores in three flavours, all with an rrp of £1.49, the Soothe & Clear line-up consists of: honey lemon echinacea (75g / 20 lozenges); honey herb (75g / 20 lozenges); and original Swiss herb (75g / 17 lozenges).
Rebecca Collison, senior marketing manager for Ricola, said: "The range of medicated confectionery products stocked by retailers has remained largely unchanged for the past 20 years, so it's no surprise that shoppers are telling us that they are struggling to find throat soothing products that appeal to them.
"Consumers nowadays prefer a more natural approach to health and wellbeing, but the shelves aren't reflecting this. Shoppers told us that they are ready for something new and the positive response they have given to the Ricola Soothe & Clear range so far is really encouraging."