Quorn is moving beyond its frozen and chilled heartland with the launch of its first ever ambient range, designed for the food cupboard aisle.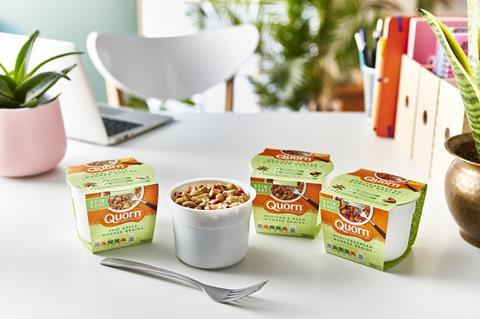 The new ambient offer includes eight products across three formats: wonder grains, bowls and strips.
The 200g wonder grain products comes in three flavours: Thai style, Mediterranean and Mexican three bean. Each of the 'stir and eat' cold lunch pots carry an rrp of £2.19 and will sit alongside Quorn's new bowl products.
The 300g bowls also come in three flavours: chilli bean, biriyani and spiced chickpea and lentil. Each one carries an rrp of £2.49 and can be heated to deliver a hot lunch option.
Finally, Quorn is launching two new strips products (180g, rrp £2.99), designed to be served cold with a salad, or warmed up in a stir fry. The strips will come in two variants: spicy tikka and smoky fajita.
Alex Glen, marketing director at Quorn Foods, said: "With chilled meat free the number one growth category in retail, and frozen meat free at number three, we're enabling retailers to introduce new and innovative meat free options to their food cupboard offering, whilst making it easier than ever for consumers to enjoy more great-tasting meat free meal solutions.
"As more than half of all UK consumers (52%) are now reducing their meat consumption, coupled with awareness about the environmental impact of people's dietary choices reaching record levels, we're giving retailers the opportunity to broaden their meat free offering and enabling consumers to meat reduce across new meal occasions, in or out of the home (YouGov ,December 2018).
Glen added: "To meet highest ever levels of demand, meat free options need to be more readily available, to enable people to eat healthy protein for a healthy planet. Today's meat free category is largely centred around planned shopping and evening meals at home, but today's time poor consumers want easy food solutions, whatever the occasion. As more meals are eaten on the go, our new food cupboard range will enable consumers to introduce meat free to an even broader range of key meal occasions."
The new range will be backed by national TV advertising, complemented by extensive digital, social and sampling support and in-store marketing.