Propercorn has entered better for you snacking and broadened its range with the launch of four new lentil chips.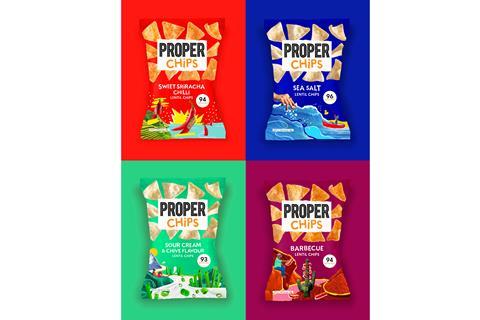 The Properchips portfolio is launching into stores nationwide this month and is made up of the following flavours: barbecue, sweet sriracha chilli, sea salt and sour cream & chive.
High in fibre, iron and a source of protein, Proper's new lentil snacks are vegan and made using natural seasoning. They also contain 30% less fat than other crisps on the market and fewer than 100 calories per serving.
Cassandra Stavrou, co-founder for Proper, said: "Properchips marks an incredibly exciting new era for Proper and catapults us from leading premium popcorn-maker to big player in better-for-you. Properchips was created for the next generation of snacker, whose expectations on great flavour and health are higher than ever. There's nothing on the market that's ticking these boxes whilst really exciting shoppers, so we have no doubt that Properchips will enjoy the same success that our popcorn continues to."
The new Properchips come in two formats: singles (20g) and sharing bags (80g), with an rrp of 80p and £1.99 respectively. The range is available to independents from the following wholesalers: Bidfood, Brakes, DDC, Epicurium and Marigold.