Propercorn is touring the country in a 33ft pink cement mixer as part of a new campaign to showcase its range of eight popcorn flavours.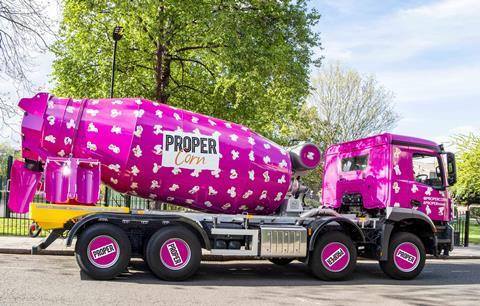 The campaign sees the Propercorn team traveling the country for a week, visiting major cities such as London, Leeds, Manchester and Birmingham and giving out 150,000 packs of popcorn.
Cassandra Stavrou, co-founder of Propercorn said: 'The humble cement mixer has become a real emblem for Propercorn and of the resourceful and creative approach we've taken since day one. Since launching in 2011, we've has seen unrivalled growth, transforming the healthy snacking landscape both in the UK and across Europe. We couldn't think of a better way to celebrate our team's different way of thinking and continued passion for popcorn than with a nationwide road trip in the Propermixer!'
As well as sampling its collection in cities across the country, Propercorn will also be engaging with shoppers across Instagram and Facebook throughout the campaign.
Digital consumers will be encouraged to share pictures of the Propermixer online for a chance of winning a year's supply of popcorn. Shoppers will also be able to dictate the route of the cement mixer, requesting where it stops via the Instagram Story poll feature.
Alongside the travelling cement mixer activation, Propercorn is launching its largest digital campaign to date with a YouTube advertising campaign, supported by a new in-store activation plan for retailers.