Podberry, a freeze-dried seasoned snack made with Scottish-grown produce, is adding two new flavours to its range this month.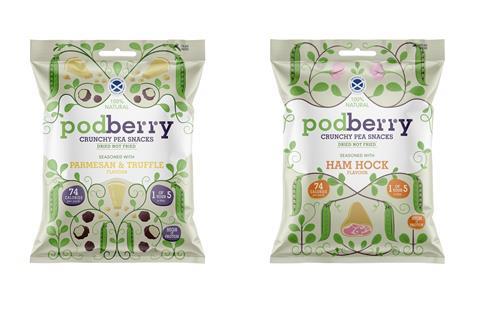 The new duo: Parmesan & Truffle; and Ham Hock, will join existing flavours: Sweet Chilli; and Sea Salt & Balsamic Vinegar. Available to convenience and independent stores, the products carry an rrp of £1 - £1.29.
Sold in 20g single-serve packs, the Podberry snacks are harvested and frozen in under two and a half hours before undergoing a freeze-drying process that gives the range its flavour.
The products are high protein (4.6g per pack), low in fat, gluten free (2.2g of fibre per pack) and counts as one of your 5 a day.
Geoff Bruce, director of Podberry, said: "We are really excited about the addition of these two new flavours to the Podberry range. With the new packs we wanted to expand the spectrum of flavour and appeal to all and think we've hit the nail on the head with these two exciting additions.
"Now it is key that we find a stockist, or multiple stockists, who can help us ensure the consumer gets their hands on Podberry wherever they are in the UK, or beyond. While our website is one option, we acknowledge having a place on a shop shelf is invaluable and would love to chat to buyers who can make this idea a reality.
Bruce added: "The reception we have had from those who have tried Podberry already has only enforced our belief that we have a delicious and unique product so we can't wait for more people to experience our four delicious flavours"