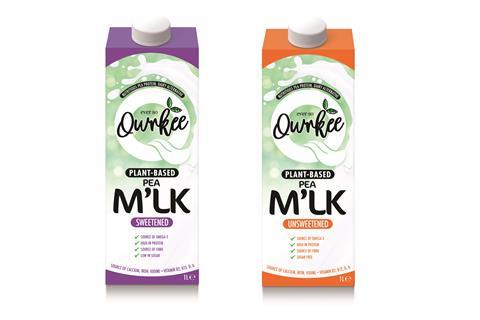 Qwrkee, a new plant-based food & drink brand, is introducing a new pea milk to c-stores in the UK.
Available now, the two-strong innovation, which includes sweetened and unsweetened variants, is designed to offer an alternative nutritional profile to dairy milk (rrp £3 per 1 litre bottle).
Made using pure pea protein, the milk is high in protein, allergen free and a source of fibre, omega 3, calcium, iron, iodine, as well as vitamins B2, B12, D and A.
Qwrkee claims the vegan and gluten free product has a low environmental footprint compared to other plant-based dairy alternatives, as its packaging is 100% recyclable and made from natural sources.
Vishal Madhu founder of Qwrkee, said: " We founded Qwrkee with a clear mission; to help protect the planet by fuelling the plant-based movement, creating foods for the future. We've taken a lot of time to develop products that deliver on taste, nutritional quality and sustainability, whilst bringing something completely new to the market."