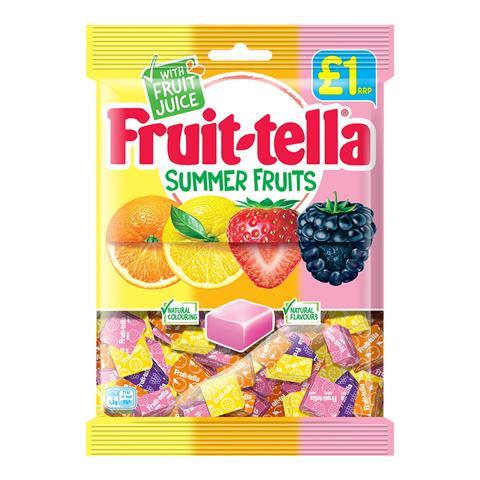 Perfetti Van Melle (PVM) has added a blackberry flavour to its relaunched Fruittella Summer Fruits sticks and sharing bags lines.
The updated Summer Fruits range contains real fruit juice and now includes Strawberry, Orange, Lemon and Blackberry chews.
PVM's research shows Strawberry is still the most popular among consumers, accounting for 70% of sales, but Blackberry is the public's second favourite flavour and brings extra appeal. By adding Blackberry to the mix, PVM is hoping to build on the 24.4% growth in sales Fruittella singles achieved in the last 12 weeks [IRI Sugar Confectionery, Value Sales, All Outlets, 12 w/e 9 Oct 2021] and strengthen Summer Fruits' position as the number two favourite stick behind Strawberry.
Like all Fruittella chews, Summer Fruits are made with natural colourings and flavours and are made from coconut oil instead of palm oil. They are also individually wrapped, helping promote hygiene and giving parents and carers more control over portions.
The new Summer Fruits range comes in sticks (rrp 60p) and sharing bags (rrp £1), and will also be available in a Favourites Multipack format (rrp £1.19) which experienced 18.8% growth in the last three months (ibid), adding variety to a range that is already worth £2m (ibid).