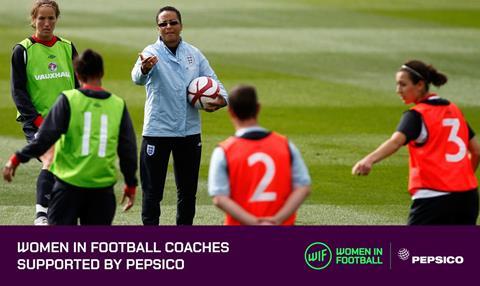 PepsiCo has announced a new partnership with Women in Football, a network of professionals supporting women in the game, which aims to attract, inspire, and improve the representation of female football coaches across the UK.
As part of the year-long commitment, Pepsi MAX and Doritos will sponsor 45 aspiring female coaches on the Football Association's 'Introduction to Coaching' course, opening the door for talented women across the country to build careers in football.
In addition to coaching courses, the partnership will give the chosen female coaches access to group training sessions and networking opportunities.
Nominations for the FA course are open to all women, 18 and above, with a passion for coaching across the UK. *To be considered, entrants can apply in writing, telling Women in Football in 50 words or less why they should be selected to receive one of the 45 coaching bursaries.
Alongside the Women in Football partnership, PepsiCo is marking its long-term commitment to women's football by partnering with UEFA Women's Football until 2025, and specifically sponsoring the UEFA Women's Euros 2022. PepsiCo is encouraging the nation to show the same level of support for the women's game as with the men's national team, with the launch of a heavyweight marketing campaign activated through Doritos, Walkers Max and Pepsi Max, across digital, social, PR, POS, OOH and in-store activations.
Kelly Simmons OBE, director of Women's Professional Game with the FA, said: "The game is on a tremendous growth trajectory, and it is critical that we help to identify and support more female coaches who can inspire girls and women to play, enjoy and excel in football. The partnership between Women in Football and PepsiCo is a really exciting development for the women's game."
Women in Football CEO, Yvonne Harrison, added: "Almost three quarters of our members told us they want more support for the development of women in leadership roles, which underlines why partnerships like this are so important.
"Creating opportunities for women in coaching can have a positive ripple effect on female representation in football as a whole, with more role models for young women to look up to. PepsiCo's support through its global brands Pepsi MAX and Doritos can help us make a real difference as we work to level the playing field."