Panini has unveiled the first Adrenalyn XL trading card collection to launch under the Premier League brand, featuring cards based on the football league's top players.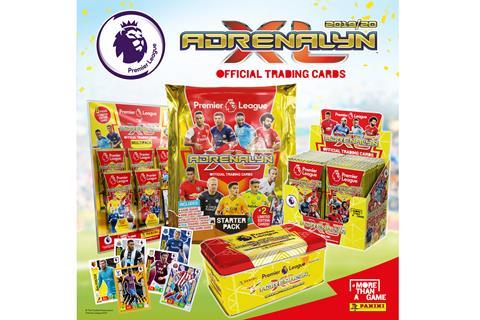 Available for retailers to order now, the collection includes all 20 clubs from the league and features 469 trading cards plus 26 limited edition cards to collect. Shoppers can activate their cards in the free to download Adrenalyn XL app as well as trade and compete with friends.
Standard packets, containing six trading cards, carry an rrp of £1 and will be joined by an official starter pack on 12 September. The pack includes a collector's binder, game board, mini checklist, 24 trading cards, a magazine game guide and two limited edition cards (rrp £6.99).
Mike Riddell, managing director of Panini UK, said: "We are incredibly excited to launch Premier League Adrenalyn XL trading cards and we are investing in an unprecedented marketing campaign which will take the UK by storm. This launch is a major milestone in our worldwide partnership with the Premier League.
"We have a heavyweight marketing campaign behind the collection which includes investment in TV, VOD and digital. We will be working with key influencers and activating on our own social channels."
Riddell added: "There will be magazine cover mount activity and nationwide schools sampling campaign in addition to a Premier League Adrenalyn XL tour kicking off in late September. We will also be working closely with the Premier League clubs and grass roots football clubs across the UK and Ireland. There will be investment at retail across a broad range of sales outlets."