Panini and The Premier League are celebrating the start of a new and exclusive global partnership with the launch of a commemorative sticker collection.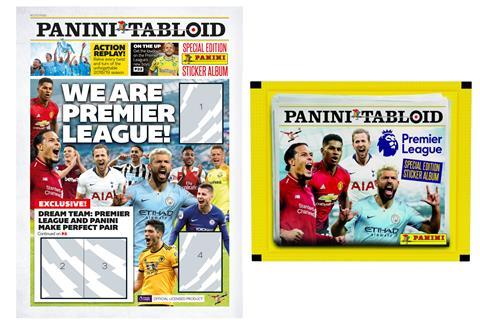 The new Premier League Panini Tabloid Sticker Collection marks the start of a new relationship which will see Panini become the official collectable licensee for the Premier League.
The collection allows consumers to re-live the story of the 2018/19 football season with stickers, special features and stats. The collection will include QR codes on the album pages for collectors to scan and access exclusive video clips of the season's most dramatic moments online.
Collectors can kickstart their album with a starter pack that includes an album and 20 stickers (rrp £3.99). Packets containing five stickers each carry an rrp of 70p. The collection is available to convenience retailers from 13 June.
Mike Riddell, managing director at Panini UK, said: "We are excited to mark the start of the partnership between the Premier League and Panini with a special collection looking back over one of the most exciting Premier League seasons yet. This is a must for all Panini collectors."
Premier League Interim chief executive Richard Masters added: "What better way to mark the start of our exciting new partnership with Panini than by launching a collection based around one of the most thrilling Premier League seasons of all time? There was an unforgettable title race and the competitiveness from start to finish captivated fans around the globe. We look forward to this and many other exciting projects with Panini."
The new sticker collection will be backed by a multi-channel marketing campaign as well as nationwide sampling at a broad range of Premier League clubs, soccer schools, academies and community programmes.
A digital marketing campaign plus integrated PR and social media activity, including activation with the Premier League clubs and key influencers, will also kick off from this month. The widespread support will also include POS and sampling initiatives for retailers.