Nature Valley has given its sweet and salty nut bar range a fresh pack design to grab the attention of impulse shoppers and drive growth in the snacks category.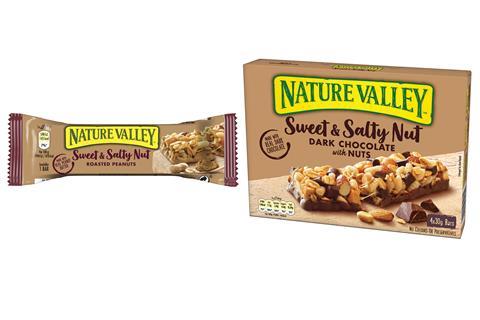 The updated pack design focuses on better-for-you messaging with a more premium feel. The revamped packaging also boasts new font colours to help shoppers differentiate between variants including dark chocolate with nuts; and roasted peanuts.
Made with peanuts, almonds and wholegrain oats and dipped in a dark chocolate or peanut butter-flavoured coating, Nature Valley sweet and salty nut bars are free from artificial colours and preservatives and are suitable for vegetarians.
Kat Jones, marketing manager for Nature Valley, said: "Nature Valley is growing ahead of the category (+7.1% vs. +3.6%), and over the last 12 months we've seen the brand excel in the convenience channel, as we have tapped into impulse buyers looking for a tasty and exciting snacks while on the go (Nielsen Scantrack, Latest 52 weeks, June 2019).
"We know that there is a huge audience for permissible treats. As a brand with 20% household penetration (+2.1%) and 5.5m consumers buying our snack bars, we want to ensure we continue to offer them the great-tasting snacks they crave. The new, more premium design for the Sweet & Salty Nut range will hero the delightfully sweet and salty sensation of our bars and call out the better-for-you cues (Nielsen Scantrack, Latest 52 weeks, June 2019)."
Each Nature Valley salty and sweet nut bar contains fewer than 140 calories with an rrp of £2.40 per pack of four.