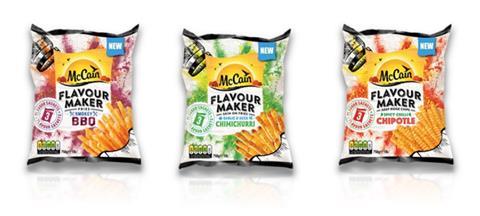 McCain has launched the Flavour Maker range.
The new product range is available in three delicious flavours; Smokey BBQ Fries Garlic & Herb Chimichurri Skin on Fries, Spicy Chilli Chipotle Deep Ridge Chips.
McCain's Flavour Maker range is available from March with an RRP of £2.99 in national supermarkets and selected convenience stores with the Spicy Chilli Chipotle SKU launching exclusively in Tesco.
Each Flavour Maker pack comes with three flavour sachets that are poured over the fries and put them in the oven. The range has been launched in response to the popularity of flavoured fries in restaurants and the casual dining sector.
Marketing director at McCain Mark Hodge said: "McCain is really excited to be shaking up the category with Flavours Makers as it allows us to offer a unique proposition with flavoured chips and fries. We know that our consumers love to recreate their favourite restaurant and pub flavour experiences in their own homes, and now with these three bold flavours, it's easy to do exactly that.
The range is perfect to accompany a variety of meal occasions whether it's a special night in for a couple or to add something special to family mealtimes – Flavour Makers will certainly add excitement to the frozen chip category."