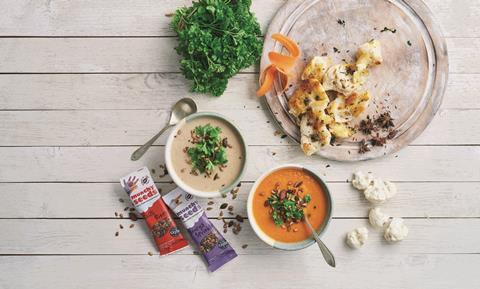 Munchy Seeds is launching a new campaign, designed to coincide with National Nutrition Month in March.
Offering consumers a range of sweet and savoury seed mixes, Munchy Seeds is setting out to prove that seeds can be added to salads, soups or smoothies as a source of vitamins, minerals and fibre.
Throughout March, Munchy Seeds will be offering tips, advice and ideas online and through social media using its product range. It will also be teaming up with Hello Fresh to run a competition as well as offering 25% discount on all its lines sold on the online store.
Lucinda Clay, co-founder of Munchy Seeds, said: "People are still largely unaware that just a tablespoon of seeds a day can work wonders so we want to spread the word at a time when people are looking to make health improvements.
"Seeds are a great source of natural fibre and protein, vitamins A, B, C and E and the minerals calcium, magnesium, potassium, zinc, iron, selenium and manganese, they are also suitable for vegans and those following a gluten or dairy free diet so everyone can enjoy them. Plus it's so easy to integrate them into every day meal times or snacking occasions."
She added: "Our aim is to inspire people to reach for seeds on a daily basis so we'll be devising recipe ideas and serving suggestions and doing lots of social media to get people talking. The competition with Hello Fresh is also a great way to encourage cooks to experiment a bit more with seeds in their every day mealtimes."
Munchy Seeds' seed mix range includes: Omega Sprinkles, Sesame Sprinkles, Chilli Bites, Honey Seeds, Salted Caramel Seeds, Super Berry, Choccy Apricot and Choccy Ginger, available in 25g snack packs or 120/140g shaker pots.