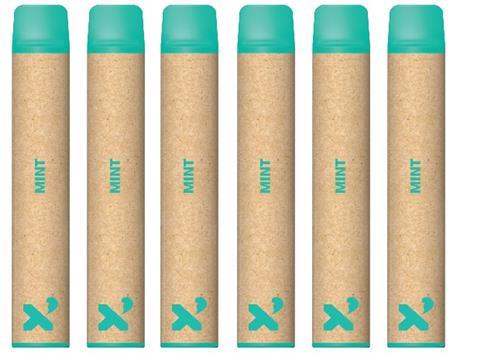 Vape supplier ANDS has unveiled a new 99% plus recyclable and recoverable single-use vape.
The SLIX range was developed on the back of heightened concerns about the environmental impact of single-use vapes.
SLIX comes in eight flavours including blue raspberry lemon, cream tobacco, grape, kiwi passion fruit guava, mint, pink lemon, sour raspberry and watermelon.
The product's construction boasts an outer casing made of 100% recyclable high-grade cardboard, with a biodegradable silicone mouthpiece and end piece.
SLIX has been independently tested by specialist vape waste firm Waste Experts, a wholly owned subsidiary of the electrical wholesaler City Electrical Factors (CEF), to verify its recyclability credentials. In tests, the product was found to be 99.29% recyclable and recoverable.
Dr Marina Murphy, senior director of scientific and medical affairs at ANDS, said: "While the analysis carried out by Waste Experts suggests that our single-use vape is highly recyclable, we will continue to work towards zero waste.'
"We aim to build a high rate of recyclability into all our products, by using high quality recyclable materials and simple construction that allows for highly efficient dismantling. This contributes to a fast, efficient overall recycling process, which reduces waste management costs. This in turn helps to keep product prices competitive, creating a win-win for the environment and adult consumers who value our products."
Fadi Maayta, president of ANDS, added: "We're very much on a journey and by the end of this year we hope to launch a 100% recyclable and recoverable version of SLIX, which will reduce the tonnage of waste going to landfill even further.
"If these single-use vapes are restricted or banned over environmental fears as is being talked about in some circles - smokers could lose what many believe to be a very convenient, accessible and compelling alternative to conventional cigarettes."