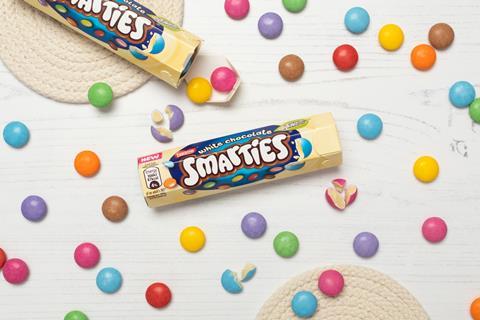 Smarties is celebrating its 85th birthday with the introduction of Smarties White.
The colourful treats are made with white chocolate and come in recyclable paper packaging. They will be available in a 38g hexatube (rrp 70p) and a 100g sharing bag (rrp £1). Smarties White is launching in Asda in mid-March and will be rolled out to convenience retailers in June.
White chocolate is becoming ever more popular with consumers, outperforming both milk and dark chocolate at a category level and growing at +16% year to date (IRI Market Advantage, Confectionary Database, 52 weeks, Value Sales, w/c 6th November 2021, IRI All Outlets), claims Nestlé.
Smarties brand manager Rebecca Mitchell says: "Here at Smarties HQ, the most popular request we receive is for a white chocolate version – so we're absolutely delighted to be able to grant the wish of Smarties fans everywhere!"
In 2021, Smarties became the first global confectionery brand to move all its products to paper. The brand's new packaging is made from coated paper, paper labels or carton board, all produced from sustainably sourced and recyclable material.